Israeli filmmaker to share 'reality of the conflict'
March  12, 2012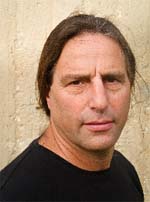 Dr. Avner Faingulernt
Augustana College will host a talk by Dr. Avner Faingulernt on Wednesday, March 14, at 4 p.m., in the Hanson Hall of Science (726 35th St.). A filmmaker and professor at Sapir College in Israel, Dr. Faingulernt will talk about using direct cinema to explore various aspects of society in a war zone.
In his lecture, titled "Beyond Stereotypes and Prejudice: Israel's Other Voice Through Films from the Southern Border," Dr. Faingulernt will share his understanding of a region fraught with stereotypes by showing parts of his two films – Men on the Edge and War Matador.
"My films look at little details in the relationship between Israelis and Palestinians," Dr. Faingulernt noted in The Daily Harrison. "This allows me to observe the reality of the conflict by looking at it from a different approach."
Dr. Faingulernt's 2005 film, Fishermen's Diary: Men on the Edge, tells the story of four fishermen – two Israelis and two Palestinians – who work together on a small beach wedged between Israel and Gaza, and how they form a delicate working relationship despite political tensions.
War Matador explores the phenomenon of war tourism, which flourished during the 2009 conflict that took place on the Israeli-Gaza border. People from all over the region swarmed to the border to observe the shelling of Gaza.
This free, public event is sponsored by the Jewish United Fund's Israel Education Center.
While in the Quad Cities, Dr. Faingulernt will present another lecture at 7 p.m. on Wednesday, March 14, at the Figge Art Museum (225 W. 2nd St.) in Davenport.
Sam Schlouch
Senior Communication Director
(309) 794-7833
samschlouch@augustana.edu