Math lectures to focus on infinity, geometry
March  12, 2012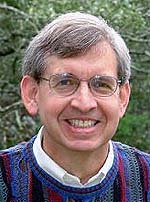 Dr. Michael Starbird
Dr. Michael Starbird, a mathematician and author who strives to to present higher-level mathematics to students and the general public, will give talks at Augustana at 11:30 a.m. and 2:30 p.m. Thursday, March 15.
Dr. Starbird is a Distinguished Teaching Professor in Mathematics at the University of Texas at Austin. His recent book, The Heart of Mathematics: An Invitation to Effective Thinking, co-authored with Edward B. Burger, was acclaimed by the American Mathematical Monthly as possibly the best math book for nonmathematicians it had ever reviewed. It is used by hundreds of colleges and universities nationwide.
At 11:30 a.m. in Hanson 102, his subject will be "To Infinity and Beyond."
"Infinity is big. For thousands of years, people also thought it was incomprehensible — an idea so vast that understanding it was beyond the scope of people's finite minds," He says in his description of the subject. "But a child's method of sharing — "one for me, one for you" — an Infinite Inn, a barrel containing infinitely many Ping-Pong balls, and a game called Dodge Ball combine to take us to infinity. And beyond."
He will speak again at 2:30 p.m. in Olin 201 on "Geometric Gems."
"Plain plane (and solid) geometry contains some of the most beautiful proofs ever — some dating from ancient times and some created by living mathematicians," he says. "This talk will include some of my favorites from an incredibly clever way to see that a plane intersects a cone in an ellipse to a method for computing areas under challenging curves developed by a living mathematician, Momikan Mnatsakanian and many more. Geometry provides many treats!"
Dr. Starbird received his B.A from Pomona College and his Ph.D. in mathematics from the University of Wisconsin-Madison. His mathematical specialty is topology. He serves on the national education committees of the Mathematical Association of America and the American Mathematical Society.
He has accepted visiting positions at the Institute for Advanced Study in Princeton, The University of California at San Diego, and the Jet Propulsion Laboratory. He is a member of the Academy of Distinguished Teachers.
Dr. Starbird's talks at Augustana are sponsored by the Mathematics and Computer Science Department and made possible by funding from the Institute for Leadership and Service and the Harry and Lillian Nelson Endowment.