March 11, 2012
2011-12 Season - Vikings move to 5-1 with shutout of Alma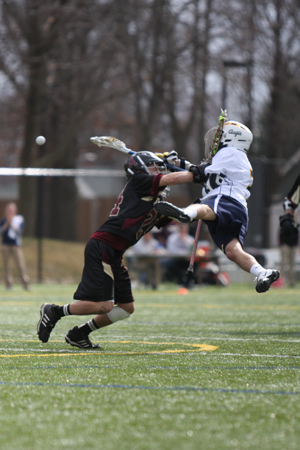 Freshman Colin Haley goes airborne to score his seventh goal of the season in Augustana's 15-0 win over Alma at Thorson-Lucken Field Sunday.
ROCK ISLAND, Ill.-Jesse Nagelberg (St., Charles East HS, St. Charles, Ill.) had four goals and two assists Sunday as Augustana improved to 5-1 on the season with a 15-0 win over Alma at Thorson-Lucken Field. Goalkeepers Cody Burgdorff (Peak to Peak HS, Lafayette, Colo.) and Jon Pape (Hoffman Estates HS, Hoffman Estates, Ill.) split time in goal for the combined shutout.
Tim Fennelly (Littleton HS, Centennial, Colo.) scored first on an assist from John Pagliarello (Heritage HS, Littleton, Colo.). The goal came at the 12:42 mark of the first period and was Fennelly's seventh of the season. Nagelberg made it 2-0 with an unassisted goal at 8:32 of the first and Doug Barrie (Lake Forest HS, Lake Forest, Ill.) scored with just 13 seconds left to make it 3-0 after one quarter. Colin Haley (St. Charles East HS, St. Charles, Ill.) assisted on Barrie's goal.
Haley scored a spectacular goal, his seventh of the season, to start the second-quarter scoring at 12:32. Barrie added a pair of goals and Nagelberg three, including two with a man advantage, as the Vikings went to halftime with a 9-0 lead. That would be the end of the day for Nagelberg and Barrie, who are first and second on the team with 16 and 10 goals, respectively, this season.
Augustana coach Kyle Hart went to his bench in the second half, with Chris Hager (Exeter Academy, Newfield, N.H.) and Ryan Nakamoto (Naperville Central HS, Naperville, Ill.) each scoring a pair of goals. Pape took over for Burgdorff in goal and recorded the Vikings' only save of the day.
Senior Marcus Maier (Loyola Academy, Wilmette, Ill.), junior Zach McGinnis (New Trier HS, Kenilworth, Ill.) and freshman Brian Donohoue (Littleton HS, Centennial, Colo.) led the Vikings defensive effort which resulted in the program's first shutout.
The Vikings held a 50-7 edge in shots, a 52-23 advantage in ground balls and committed 19 turnovers to the Scots' 31.
The Vikings hit the road next weekend, facing Albion in Albion, Michigan on Saturday March 17 at noon and Trine in Angola, Indiana on Sunday, March 18 at 1:00 p.m.