March 10, 2012
2011-12 Season - Viking fall to Grinnell & UW-Oshkosh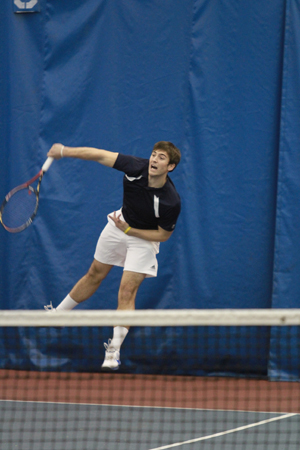 Sophomore Colin Arnold won a total of three matches on Saturday in tight 6-3 losses to Grinnell and Wisconsin-Oshkosh. Arnold and doubles partner Jack Cullen won twice at number three doubles to run their record to 8-1 and Arnold also won at number four singles against UW-Oshkosh.
MOLINE, Illinois - Augustana lost a pair of 6-3 decision to two highly regarded men's tennis opponents on Saturday, March 10 at the Quad City Tennis Club in Moline, Illinois. The Vikings fell to Grinnell 6-3 in the morning match and in the afternoon fell 6-3 to Wisconsin-Oshkosh.
First year head coach Jon Miedema's club was in action for the first time since returning to the Quad Cities from a very successful spring break trip to Orlando, Florida. The Vikings went 4-1 in Florida and Saturday's double defeat dropped Augustana's overall record to 7-4.
The highlight of the day for the Vikings was the performance of the number three doubles team of sophomore Colin Arnold (Sterling HS, Sterling, Ill.) and junior Jack Cullen (Edgewood HS, Madison, Wis.). Arnold and Cullen won a pair of matches to run their overall record this season to a sparkling 9-1.
Augustana's next match will be Saturday, March 17 in Cedar Rapids, Iowa against regionally ranked Coe.
GRINNELL 6, AUGUSTANA 3
The Vikings fell behind Grinnell 2-1 in the doubles portion of the meet and were never able to make up the difference en route to a 6-3 loss. Arnold and Cullen won a tough 9-8 decision at number three doubles over Colin Johnson and Aaron Lapkin for the lone Augustana victory in the early going.
Senior Adam DeSimone (Bettendorf HS, Bettendorf, Iowa) beat Elliott Czarnecki 6-4; 7-5 for a very good win at number one singles. That moved his season record to 9-6.
Sophomore Andy Wall (Notre Dame Academy, DePere, Wis.) beat Benjamin Charney 6-4; 6-1 at number three singles to go to 9-5.
SINGLES
1 - Adam DeSimone (A) beat Elliott Czarnecki (G) 6-4; 7-5
2 - Eric Ritter (G) beat Lawrence Palmer (A) 6-3; 6-3
3 - Andy Wall (A) beat Benjamin Charney (G) 6-4; 6-1
4 - Daniel Nellis (G) beat Jack Cullen (A) 6-3; 3-6; 6-0
5 - Ishan Bhadkamkar (G) beat Colin Arnold (A) 6-4; 7-5
6 - Michael Cole (G) beat Kevin Bayles (A) 6-3; 6-4
DOUBLES
1 - Czarnecki/Cole (G) beat DeSimone/Wall (A) 8-5
2 - Charney/Bhadkamkar (G) beat L. Palmer/Will Palmer (A) 9-7
3 - Cullen/Arnold (A) beat Colin Johnson/Aaron Lapkin (G) 9-8
WISCONSIN-OSHKOSH 6, AUGUSTANA 3
The number three doubles team of Arnold and Cullen stayed hot, winning for the second time in the day but it was not enough as Augustana fell to the Titans 6-3. Arnold and Cullen pushed their record to 9-1 on the year with an 8-4 win over Josh Hopfensperger and Scott Niemi.
The other two doubles teams for the Vikings played tight matches but dropped identical 8-6 decisions. DeSimone and Wall fell to Bobby Brooks and Kevin Lewis at number one and the number two team of Lawrence Palmer (Schiller International, El Prat de Llobregat, Spain) and Will Palmer (Schiller International, Leicester, England) lost to Adam Kasper and Aiden Sauberlich.
Arnold picked up a 6-4; 6-3 win over Scott Niemi at number four singles and sophomore Kevin Bayles (Homewood-Flossmoor HS, Flossmoor, Ill.) beat Kasper 6-2; 6-1 at number five.
SINGLES
1 - Bobby Brooks (UWO) beat Adam DeSimone (A) 7-6; 6-2
2 - Kevin Lewis (UWO) beat Lawrence Palmer (A) 6-2; 6-1
3 - Aidan Sauberlich (UWO) beat Andy Wall (A) 6-3; 5-7; 6-2
4 - Colin Arnold (A) beat Scott Niemi (UWO) 6-4; 6-3
5 - Kevin Bayles (A) beat Adam Kasper (UWO) 6-2; 6-1
6 - Jason Alexander (UWO) beat Grant Wick (A) 6-4; 6-3
DOUBLES
1 - Brooks/Lewis (UWO) beat DeSimone/Wall (8-6)
2 - Kasper/Sauberlich (UWO) beat L. Palmer/Will Palmer (A) 8-6
3 - Arnold/Jack Cullen (A) beat Josh Hopfensperger/Niemi (UWO) 8-4