March 10, 2012
2011-12 Season - Vikings up record to 5-2 with win over Alma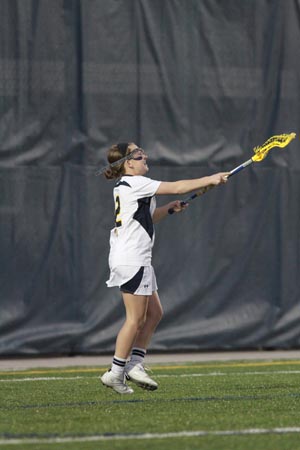 Freshman Hillary Kargl scored six goals as Augustana defeated Alma 19-4 to move to 5-2 on the season. Karl leads NCAA Division III in total goals scored this year with 46.
ROCK ISLAND, Ill. - Augustana jumped to a 12-1 halftime lead and cruised to a 19-4 win over Alma Saturday evening at Thorson-Lucken Field. The win was the Vikings' second of the day and improved their record to 5-2. Alma falls to 2-4 on the season.
Freshmen Hilary Kargl (Sacred Heart Academy, Louisville, Ky.) scored off an assist from Hannah Dickman (Stillwater Area HS, Stillwater, Minn.) to give Augustana the lead 29 seconds into the contest.
After being held scoreless for almost seven minutes, the Vikings scored five goals in a span of less than three minutes to put some distance between themselves and the visitors. Five different players scored in that spurt, including Kargl, who got her second goal of the game, Christina Letmanksi (Glenbard West HS, Wheaton, Ill.) who scored with the help of another Dickman assist and Nattali Shelton (Wheaton Warrenville South HS, Wheaton, Ill.), who recorded her first goal of the season.
The lead eventually reached 11-0 at 11:13 of the first half on the second of back-to-back goals by Allie Roehrenbeck (Columbus Academy, Gahanna, Ohio). After Tracy Gallihugh got the Scots on the board with her 22nd goal of the season, Viking Maribeth Shea (Willows Academy, Chicago, Ill.) answered with her second goal of the game and fifth of the season to close out the first half scoring.
In the second half, Kargl added three more goals to increase her nation-leading total to 46 for the year. Letmanksi found the net twice as well, giving her 16 goals this year.
Kargl finished with six goals and Letmanksi three. Shea and Roehrenbeck each scored twice. Roehrenbeck's 17 goals this season are second on the team. Dickman led the way with three assists. Sarah Osier (Naperville Central HS, Naperville, Ill.) had three saves in goal.
Augustana outshot the Scots 34-8, had an 11-6 edge in ground balls and committed 15 turnovers to Alma's 24.
Next up for coach Sara Tisdale's squad is a home contest against Otterbein on Tuesday, March 13. Game time at Thorson-Lucken Field is 6:00 p.m.