March 10, 2012
2011-12 Season - Vikings a 23-3 winner in home opener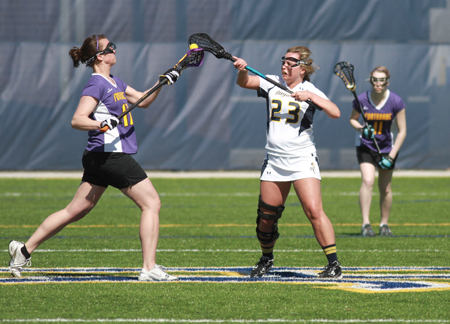 Augustana's Kate Zisser had a team-best three assists Saturday and added a goal as Augustana defeated Fontbonne 23-3 in its Thorson-Lucken Field debut.
ROCK ISLAND, Ill. - Freshmen Hilary Kargl (Sacred Heart Academy, Louisville, Ky.) and Allie Roehrenbeck (Columbus Academy, Gahanna, Ohio) scored five and four goals, respectively and classmate Kate Zisser (Kirkwood HS, St. Louis, Mo.) dished out a team-high three assists Saturday as Augustana won its first ever game at Thorson-Lucken Field 23-3 over Fontbonne. The Vikings improve to 4-2 on the year and play a second game Saturday evening against Alma.
Frosh Kelly Stelzer (Wheaton Warrenville South HS, Wheaton, Ill.) got the Vikings on the board with her 11th goal of the season just 18 seconds into the contest. Augustana's lone senior, Maribeth Shea (Willows Academy, Chicago, Ill.), scored for the third time this year 25 seconds later on an assist from Zisser.
Fontbonne's Mary Alice Pierce controlled the ensuing draw and stormed through the Viking defense for her seventh goal of the year and it was 2-1 Augustana less than a minute into the game.
Christina Letmanksi's (Glenbard West HS, Wheaton, Ill.) 12th goal of the season pushed the lead to 3-1 at the 27:10 mark of the first half. That would be the first of 15 unanswered goals for the hosts. Stelzer and Roehrenbeck each scored a free position goal and Hannah Dickman (Stillwater Area HS, Stillwater, Minn.) found the net off a Kargl assist and the Vikings led 6-1 before the game was five minutes old.
Stelzer added her third goal of the game, Kargl her first two and Roehrenbeck her second and third as the Vikings took a 16-1 halftime lead.
Kargl scored the first goal of the second half and also finished off the day's scoring with her 40th goal of the season to account for the final.
In all, 12 Vikings scored goals, including Letmanksi and Emily Pavlik (Lyons Township HS, LaGrange, Ill.), who each found the net twice. Seven recorded at least one assist with Dickman delivering a pair. Freshman Sara Osier (Naperville Central HS, Naperville, Ill.) went the distance in goal for Augustana and recorded four saves to improve to 4-2 on the season.
After hosting Alma in its second game of the day, the Vikings will face Otterbein at 6:00 p.m. on Tuesday, March 13 at Thorson-Lucken Field.