March 9, 2012
2011-12 Season - Richardson earns All-America status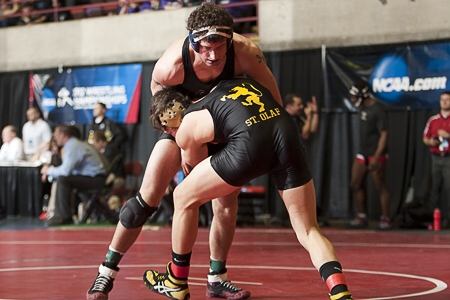 Sophomore Jordan Richardson placed eighth at 174 pounds in the NCAA Division III national wrestling tournament, which was held on March 9-10 in LaCrosse, Wisconsin. He finished the year with a 38-11 record and is the first Viking to garner All-American honors since Matt Kapraun in 2003.
LACROSSE, Wisconsin - Augustana sophomore Jordan Richardson (Grandville HS, Wyoming, Mich.) became Augustana's first wrestling All-American in nine years at the NCAA Division III National Wrestling Championships in LaCrosse, Wisconsin on Saturday, March 10. He finished eighth in the 174 pound weight class and is the first Viking to grab All-American status since Matt Kapraun turned the trick at 141 pounds in 2003.
Augustana scored a total of seven points in the national championship and finished 36th in the team standings.
Richardson, who was unseeded at 174, started the tournament with a match against fifth seeded Scott King of Coe. He was pinned at 2:47 and that placed Richardson into the wrestle back round. He defeated Kyle Roosa of Wesleyan 8-5 and then pinned James Roach of St. Olaf at 6:27 to secure the coveted All-American spot.
There were just eight wrestlers left in the 174 pound weight class after Friday's sessions and Richardson had a chance to finish as high as third. However, he lost to Matt Cross of Messiah on Saturday morning by a score of 9-3 and in the seventh place bout he dropped a 6-1 decision to Jules Doliscar of Ithaca.
Richardson, the CCIW champion at 174 and a third place finisher in the NCAA Great Lakes Regional, finished the year with a 38-11 overall record.
Richardson's two teammates, junior Matt Burns (Naperville Central HS, Naperville, Ill.) and senior Alberto Quiros (Morton East HS, Cicero, Ill.) were eliminated in Friday's competition.
Burns won his first match at 165 pounds, upsetting fifth seeded Derrick Longo of Springfield by a score of 11-8. He then lost to fourth seed Joey Favia of Stevens Institute 6-1. In the wrestle backs Burns dropped an 8-2 decision to third seeded Nicholas Sanko of Ithaca to end his season with a 28-17 record.
Quiros lost a pair of one point heartbreakers at 149 pounds. In the opening round he fell to eighth seeded Joe Wood of Loras 3-2 and then lost 1-0 to Mike Willey of Plymouth State. Quiros' season ended with a 36-11 record.