March 9, 2012
2011-12 Season - Vikings win Thorson-Lucken debut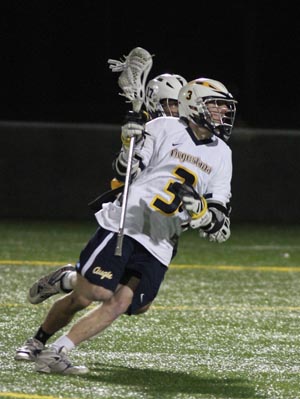 Freshman Doug Barrie scored a pair of goals as Augustana made a successful debut at Thorson-Lucken Field with a 6-3 win over Fontbonne on Friday, March 9. The Vikings are now 4-1 on the season.
ROCK ISLAND, Ill.-Behind another stout defensive performance and a pair of Doug Barrie (Lake Forest HS, Lake Forest, Ill.) goals, Augustana won its first ever home lacrosse match 6-3 over Fontbonne Friday at Thorson-Lucken Field. The win bumps the Vikings' record to 4-1 on the season, while the Griffins fall to 3-2.
The hosts jumped out to a 2-0 lead at the end of one period on goals by Brad Anderson (Arrowhead HS, Hartland, Wis.) and Vincent Giglierano (Archbishop Mitty HS, San Jose, Cal.). Anderson's score came on a Colin Haley (St. Charles East HS, St. Charles, Ill.) assist at 9:35 of the first quarter and was the first men's goal in Thorson-Lucken history. Giglierano's fifth goal of the season came just over a minute later. At the 12:05 mark of the second quarter, Haley scored his sixth goal of the season to extend the Augustana advantage to 3-0.
Fontbonne's Camerin Staffel completed the first half scoring with a goal at 10:49 of the second quarter.
The Griffins' Colin Benecke scored to cut the Viking lead to 3-2 just over two minutes into the third period, but Barrie answered less than a minute later and Augustana led 4-2 after three quarters.
Michael Ciavarino found the net off a Staffel assist with 12:02 to go and Fontbonne was again within one goal. The Vikings finished strong however, getting another goal from Barrie, his seventh of the season, and one from Tim Fennelly (Littleton HS, Centennial, Colo.) to account for the final. Haley was credited with his second assist of the game on Barrie's goal. Augustana was able to control the ball for much of the final seven and a half minutes to come away with the win.
Cody Burgdorff (Peak to Peak HS, Lafayette, Colo.) was outstanding in goal for the Vikings, stopping nine Griffin shots on the night to improve to 4-1 on the season.
Fontbonne outshot Augustana 24-20 in the match, but the Vikings had 15 shots on goal to just 12 for the visitors. The hosts also had a 22-16 edge in ground balls and turned it over 14 times to 19 for the Griffins.
Coach Kyle Hart's squad is back in action on Sunday, March 11 at noon, when they'll host the Fighting Scots of Alma.