Augie finalist in Shooting Touch needs viewers
March  09, 2012
Brianna Skeens needs YouTube views to help her in the voting for the Shooting Touch Sabbatical.
Senior Brianna Skeens is one of five finalists for a 10-month trip with Shooting Touch Sabbatical, billed as the "Basketball Peace Corp."
The program grants $25,000 to a graduating college senior to promote growth through building courts and relationship in countries with a need. The winner chooses a country for five months and Shooting Touch chooses a country for five months. The student works with local aid agencies and programs.
The winner will be chosen March 14 by the Shooting Touch board, founders and former winners. The person who gets the most views of their YouTube video will get one additional vote.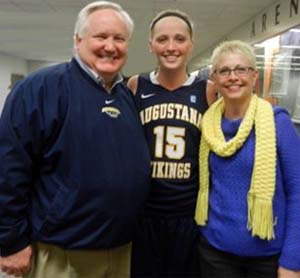 Bill, Brianna and Sue Ellen Skeens
Skeens, a native of Libertyville, Ill., is a four-year letter winner in basketball at Augustana and this year was the MVP in volleyball as well. Basketball and helping those in need are her real passion and she hopes with the Shooting Touch Program, sports will take her to the continent of Africa where she would coach women, build basketball courts and offer education on disease prevention.
She was chosen as one of five finalists out of 100 written applications and 11 semi-finalists who each submitted a video about themselves.
In her video, Skeens talks about her love of basketball and about traveling to Belize for a mission project with her church. For Shooting Touch, she has developed a program called "Sole Sisters" in which she intends to take donated shoes with along with an athlete's story of how sports has positively impacted their lives and spread the message to those in need in Africa.
The 2010 winner, Tome Barros, traveled to Dakar, Senegal, Rio de Janiero, Brazil and the islands of Cape Verde teaching Senegalese, Brazilian and Cape Verdean youth basketball and leadership skills, HIV and AIDS prevention as well as proper nutrition and exercise.
The 2011 winner, Leah Westbrooks, worked in Capetown, South Africa working with Hoops 4 Hope in education African youth on basketball and leadership skills. She also traveled to Johannesburg, South Africa to work with the NBA's Basketball Without Borders Program.