Lacrosse coaches explain sport, what to expect
March  09, 2012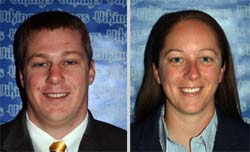 Lacrosse coaches Kyle Hart and Sara Tisdale
Quad Cities sports writers are preparing the community for a new spectator sport not seen here before — collegiate lacrosse — as Augustana prepares for its first home matches tonight and Saturday.
Kyle Hart, Vikings men's lacrosse coach, told the Quad City Times he is eager to show the community a sport that is gaining popularity at the high school level in Illinois and at the collegiate level.
"I get a lot of questions from people who wonder what it's all about, and the people who do come out will see a physical game, a fast-paced game that incorporates some of the skills of basketball, football, hockey and soccer," Hart said. "We're ready to show people what we're about, and we're excited about finally playing at home."
In "Lacrosse 101," Quad-Cities Online explains how the game is played and what spectators can expect.
"One of the things they'll pick up is the intensity and the speed of the games," said women's coach Sara Tisdale. "The readers who like basketball for the fastbreak and the transition will really be drawn to lacrosse. For the readers who like the physicality of hockey and rugby, they'll get that out of the sport as well.''
See more reports at: