St. Patrick's Day concert to feature flutes, harp and dance
March  09, 2012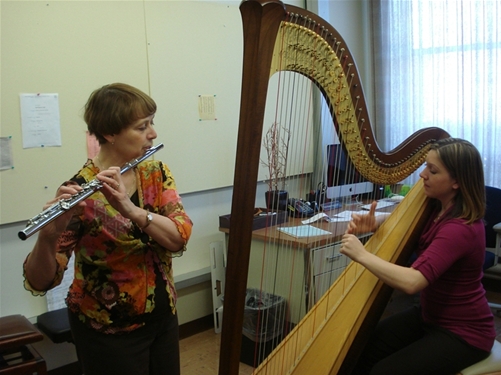 Augustana's 12th annual musical celebration of St. Patrick's Day will take place at 8 p.m. on Saturday, March 17, at Wallenberg Hall in the Denkmann Memorial Building (3520 7th Ave.). The concert is free and open to the public.
Harpist Dr. Erin Freund and flutist Janet Stodd will start the program of Celtic selections with Sweet Molly's Lament by Jennifer Grady. "I look forward to all the variety of sound in this concert, especially the flute and harp," said Stodd, part-time instructor of music at Augustana.
Dr. Freund, assistant professor of music and instructor of harp at Augustana, added, "Playing Irish music on such traditional Irish instruments is a great way to celebrate Irish culture, especially on St. Patrick's Day."
The second part of the program will feature Augustana flute ensembles performing works by Catherine McMichael and Sondra Howard. Dancer and Geneseo High School student Allie Holloway will kick up her heels to several selections by the Augustana Flute Choir directed by Stodd, including Irish folk songs Piccolos In the Pub and A Lively Irish Medley.
Sam Schlouch
Senior Communication Director
(309) 794-7833
samschlouch@augustana.edu