Deadline approaches for Business Day 2012
March  07, 2012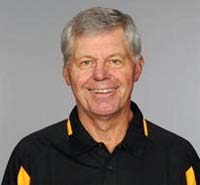 Ken Anderson
The list of Quad-Cities employers who will utilize Augustana College's Business Day as a way to connect with the next generation of business leaders is growing this year. With over 40 employers already signed up, organizers are encouraging other businesses and non-profits to register by Wednesday, March 14 for the Friday, April 20 event.
Karen M. Petersen, Business Day coordinator and director of business internships at Augustana, believes the interest in the college's 36th annual Business Day is especially strong because Augustana alumnus and NFL legend Ken Anderson will kick off the day's activities. "We're so pleased that Ken will be back on campus and deliver the keynote address at the Business Day breakfast," said Petersen.
Participating students and business leaders will begin their day with a complimentary hot breakfast and Anderson's keynote address.
Petersen continued, "After the breakfast, companies are able to connect with today's generation of high-potential college students and communicate the strengths of their organizations," Petersen said. "It also is a great way for businesses to build brand awareness and give back to the community."
Dave Crockett is an Edward Jones financial advisor from Moline who's been a part of the Business Day events for approximately eight years. He said, "Edward Jones provides employment opportunities that we want Augustana students to be aware of. Business Day helps us connect."
Deb Boyd, volunteer manager for the Girl Scouts of Eastern Iowa and Western Illinois, explained that she annually participates in Business Day because it provides an additional connection between the local Girl Scouts office and Augustana. "We always get quality interns from Augustana. So, in addition to working with the interns, Business Day is another way for us to show students what we do," said Boyd. "It may help students get excited about a career choice in the future."
For additional information contact Judy Campos at judycampos@augustana.edu or (309) 794-7470.
Sam Schlouch
Senior Communication Director
(309) 794-7833
samschlouch@augustana.edu