Documentary film honors Freedom Riders
March  05, 2012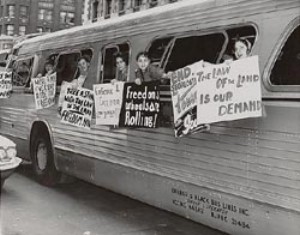 The Freedom Riders
On Monday, March 12, at 6:30 p.m. Augustana College's Africana Studies Program will host a free, public showing of the documentary FREEDOM RIDERS in the auditorium of the Franklin W. Olin Center for Educational Technology (733 35th St.). After the film, Augustana faculty members will provide refreshments and facilitate a discussion about the film and civil rights.
A PBS production, FREEDOM RIDERS tells the story of 400 black and white Americans who risked their lives, endured savage beatings and were imprisoned—simply for traveling together on buses and trains from Washington D.C. into the Deep South in 1961.
From award-winning filmmaker Stanley Nelson, FREEDOM RIDERS features testimony from a fascinating cast of central characters: the Riders themselves, state and federal government officials, and journalists who witnessed the Rides firsthand.
Nelson said, "The lesson of the Freedom Rides is that great change can come from a few small steps taken by courageous people. And that sometimes to do any great thing, it's important that we step out alone."
To view the FREEDOM RIDERS trailer, visit http://www.youtube.com/watch?v=d8CAKAXR-AM.
This event is made possible through a gift of materials from WQPT, Quad Cities PBS.
Sam Schlouch
Senior Communication Director
(309) 794-7833
samschlouch@augustana.edu