March 2, 2012
2011-12 Season - Augustana men suffer first lacrosse loss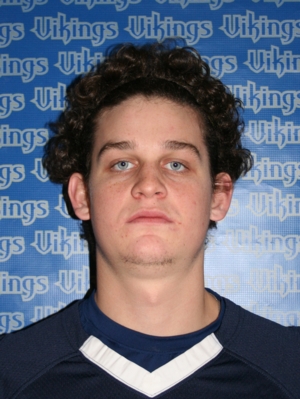 Augustana freshman Jesse Nagelberg scored three goals Friday, but the Vikings dropped their first match of the season, 5-4 at Hendrix.
CONWAY, Ark.-Four goals by Hendrix in a seven minute span late in the match were the difference Friday as the Augustana men's lacrosse team suffered its first loss of the season, falling to the Warriors 5-4 in Conway, Arkansas. The Vikings are now 3-1 on the season.
Augustana led the match 3-1 late in the third period, but with a man advantage Hendrix's Cameron Millstone scored with 18 seconds left to make it 3-2. Millstone then gave the Warriors the lead, scoring at 12:01 and 10:37 of the fourth quarter. The first of those goals also came with the Warriors a man up. Sean Tjaden extended the Hendrix lead to 5-3, scoring with 8:50 left. Augustana's Jesse Nagelberg (St. Charles East HS, St. Charles, Ill.) drew the Vikings to within 5-4 with his team-leading 12th goal of the season at the 7:09 mark, but that's how the contest would end.
Millstone gave the hosts the early lead, scoring the only goal of the first period with 5:42 left. The Vikings grabbed a 2-1 lead behind early second-quarter goals by Nagelberg and Doug Barrie (Lake Forest HS, Lake Forest, Ill.). That's how the half would end, as the final 10 minutes of the period were scoreless.
With 6:21 to go in the third period, Nagelberg scored to put the visitors up 3-1.
Augustana got the better of it statistically, with a 36-20 edge in shots, including 19-12 in shots on goal, and a 37-35 advantage in ground balls. The Vikings committed 22 turnovers to 31 for Hendrix. However, Warrior goalkeeper Keith Clemens came up big, recording saves on 15 of the 19 shots on goal he faced. The hosts were also better with a man advantage, converting two of five opportunities compared to one of four for Augustana.
In addition to his goal, Barrie also collected a team-high five ground balls. Cody Burgdorff (Peak to Peak HS, Lafayette, Colo.) went the distance in goal, recording seven saves.
Coach Kyle Hart's Vikings are now idle until Friday, March 9, when they'll play the first varsity lacrosse match ever at Augustana's Thorson-Lucken Field. Fontbonne will be the opponent in the 7:00 p.m. match.