March 2, 2012
2011-12 Season - Doubles strength keys win over Berry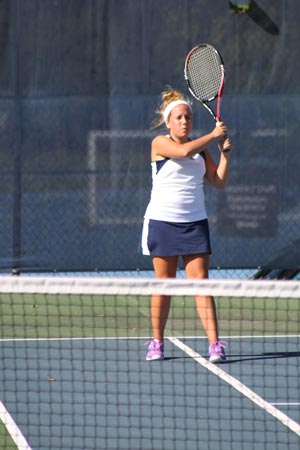 Sophomore Katie Scharnagle won her match at number five singles as Augustana defeated Berry 6-3 to finish the spring-break trip with a 3-2 record. The Vikings are now 10-8 overall.
ORLANDO, Florida - A sweep in doubles proved to be the key as Augustana defeated Berry 6-3 in women's tennis action on Friday, March 2 in Orlando, Florida. The win gave the Vikings a 3-2 record on their spring trip and pushed their overall mark to 10-8 for the season.
The number one doubles team of sophomore Kim Sawyer (Batavia HS, Batavia, Ill.) and junior Meghan Wethington (Geneseo HS, Geneseo, Ill.) rallied from a 6-7 deficit in the match against Alex Sanguilly and Maggie McDonald. Eventually, Sawyer and Wethington picked up a 9-7 win.
Senior Brittany Reece (Neuqua Valley HS, Naperville, Ill.) and junior Krista Panko (Geneva HS, Geneva, Ill.) beat Caitlin Smith and Rachel Sandoval 8-5 at number two. Freshman Miranda Pence (Oswego HS, Oswego, Ill.) and sophomore Emily Kaczmarek (Glenbard South HS, Lombard, Ill.) won a tight 9-7 decision over Keri McGinnis and Allie Jackson at number three.
In singles action Augustana split the six matches. Sawyer beat Sanguilly 6-3; 6-4 at number one. Sophomore Katie Scharnagle (Wheaton St. Francis HS, Lisle, Ill.) smacked Sandoval 6-0; 6-0 at number five and sophomore Mariah Bardo (Sterling HS, Sterling, Ill.) won a 6-2; 6-0 decision over Jackson at number six.
Jon Miedema's squad, which has won five of its last seven matches, will play at Coe on Saturday, March 17 in its next outing.
AUGUSTANA 6, BERRY 3
Friday, March 3, 2012
Orlando, Florida
SINGLES
1 - Kim Sawyer (A) beat Alex Sanguilly (B) 6-3; 6-4
2 - Caitlin Smith (B) beat Brittany Reece (A) 6-4; 7-6
3 - Maggie McDonald (B) beat Krista Panko (A) 6-2; 6-0
4 - Keri McGinnis (B) beat Meghan Wethington (A) 6-2; 6-4
5 - Katie Scharnagle (A) beat Rachel Sandoval (B) 6-0; 6-0
6 - Mariah Bardo (A) beat Allie Jackson (B) 6-2; 6-0
DOUBLES
1 - Sawyer/Wethington (A) beat Sanguilly/McDonald 9-7
2 - Reece/Panko (A) beat Smith/Sandoval 8-5
3 - Miranda Pence/Emily Kaczmarek (A) beat McGinnis/Jackson 9-7