March 2, 2012
2011-12 Season - Men's tennis finishes trip with 9-0 victory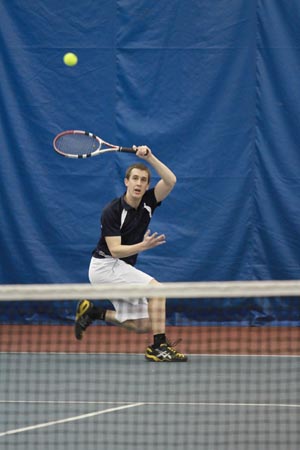 Senior Adam DeSimone won at number one singles and number one doubles as Augustana moved to 7-2 on the season with a 9-0 victory over Berry on Friday, March 2 in Orlando, Florida.
ORLANDO, Florida - Augustana put the finishing touches on a successful spring break trip in men's tennis with a 9-0 victory over Berry on Friday, March 2 in Orlando, Florida. The win allowed first year head coach Jon Miedema's team to cap its trip with a 4-1 record and move to 7-0 overall.
The Vikings jumped out to a 3-0 lead after doubles and were never really threatened after that, winning all six singles matches in straight sets. Senior Adam DeSimone (Bettendorf HS, Bettendorf, Iowa) and sophomore Andy Wall (Notre Dame Academy, DePere, Wis.) won a tight match at number one doubles, beating Logan Yerbey and Jonathan Surls 8-6. Brothers Lawrence (Schiller International, El Prat de Llobregat, Spain) and Will (Schiller International, Leicester, England) Palmer beat Ben Ortman and Jake Pullen 8-2 at number two. Sophomore Colin Arnold (Sterling HS, Sterling, Ill.) and junior Jack Cullen (Edgewood HS, Madison, Wis.) completed the doubles sweep with an 8-1 win over Colby Chapman and Kyle Stapleton at number three.
DeSimone beat Yerbey 7-5; 6-3 at number one while Wall won a 6-2; 7-5 decision over Surls at number two. Cullen beat Ortman 6-0; 7-6 at number three and Arnold took care of Pullen 6-3; 6-1 at number four. Sophomore Kevin Bayles (Homewood-Flossmoor HS, Flossmoor, Ill.) defeated Chapman 7-5; 6-3 at number five and sophomore Grant Wick (Windsor HS, Fort Collins, Colo.) beat Stapleton 6-2; 6-2.
Augustana will be in action again on March 10 when the Vikings host Grinnell and Wisconsin-Oshkosh at the Quad City Tennis Club.
Augustana 9, Berry 0
Mar 02, 2012 at Orlando, Florida
Singles competition
1. DeSimone, Adam (AUGIE) def. Logan Yerbey (BERRY) 7-5, 6-3
2. Wall, Andy (AUGIE) def. Jonathan Surls (BERRY) 6-2, 7-5
3. Cullen, Jack (AUGIE) def. Ben Ortman (BERRY) 6-0, 7-6
4. Arnold, Colin (AUGIE) def. Jake Pullen (BERRY) 6-3, 6-1
5. Bayles, Kevin (AUGIE) def. Colby Chapman (BERRY) 7-5, 6-3
6. Wick, Grant (AUGIE) def. Kyle Stapleton (BERRY) 6-2, 6-2
Doubles competition
1. DeSimone, Adam/Wall, Andy (AUGIE) def. Logan Yerbey/Jonathan Surls (BERRY) 8-6
2. Palmer, Lawrence/Palmer, William (AUGIE) def. Ben Ortman/Jake Pullen (BERRY) 8-2
3. Arnold, Colin/Cullen, Jack (AUGIE) def. Colby Chapman/Kyle Stapleton (BERRY) 8-1
Match Notes
Augustana 7-2