March 1, 2012
2012 Season - Vikings go extra innings to win fifth straight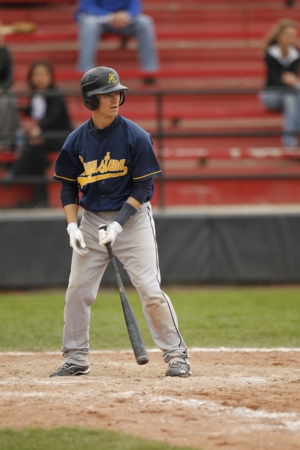 Senior outfielder Mike Barker came through with a game-winning, two-out RBI single in the bottom of the 10th Thursday as Augustana defeated Wartburg 3-2 in Winter Haven, Florida.
WINTER HAVEN, Fla.-Mike Barker's (Centennial, Colo. Grandview HS, Marina del Rey, Cal.) two-out single in the bottom of the tenth inning Thursday scored Jeremy Juhl (Glenbard East HS, Lombard, Ill.) with the winning run as Augustana defeated Wartburg 3-2 in Florida. The win was the Vikings' fifth in a row and allowed the team to complete its first swing through the Sunshine State with a 7-2 record.
Before coach Greg Wallace's crew could get to the tenth inning, they needed senior right-hander Josiah Martin (Canton HS, Canton, Ill.) to get them out of a jam in the top of the ninth.
With junior southpaw Rick Erickson (Lake Zurich HS, Hawthorn Woods, Ill.) on the mound, the Knights' Michael Schinstock started the frame by reaching on a Juhl error. Erickson, who threw two scoreless innings, then walked Ryan Doty, prompting Wallace to call on Martin. The first batter he faced, Levi Montague, loaded the bases by reaching on a fielder's choice on which the Vikings failed to record an out. Martin got Joseph Grote to ground to Joe Cecchi (Romeoville HS, Romeoville, Ill.) at third, who fired to catcher Jim Sundberg (JK Mullen HS, Littleton, Colo.) to get the lead runner for the first out. He ended the inning with back-to-back called third strikes on Craig Kerper and Andrew Krehbiel, the first two hitters in the Knights' batting order.
Martin retired Wartburg quietly in the top of the tenth and picked up his first win of the year when Barker delivered Juhl in the bottom of the inning. Brad Walker, who came on to start the eighth inning, suffered the loss for the Knights.
Wartburg got on the board first, touching Viking starter Jared McIntosh (Assumption HS, Davenport, Iowa) for a pair of runs in the second inning. Coming off an injury to make his first start of the season, McIntosh scattered eight hits over six innings and allowed just those two runs, only one of which was earned.
Juhl walked to lead off the bottom the third and scored Augustana's first run on a Kurt Schmidt (Grayslake Central HS, Grayslake, Ill.) sacrifice fly to right. The Vikings tied it in the seventh on a one-out triple by Grant Stewart (Sterling HS, Sterling, Ill) and Sandberg's RBI single. They threatened again in the eighth, but left runners stranded at second and third.
The Vikings are now idle until March 16, when they'll take on Minnesota-Morris in a 10:00 a.m. doubleheader in Fort Myers, Florida.