Campus News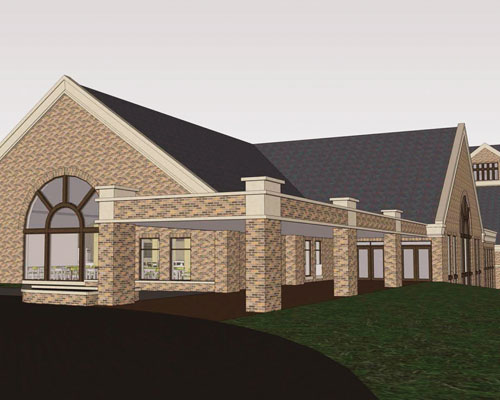 BLDD Architects

College to build Center for Student Life, complete Old Main renovation, enhance campus neighborhood
Augustana is entering one of the largest construction seasons in its history. In addition to the continuing renovation of Old Main, the college plans to build a $20.4 million Center for Student Life attached to the existing five-story Thomas Tredway Library.
Combining dining, student activities and the library into one facility will position Augustana among liberal arts colleges for rethinking the traditional library and providing an enhanced learning environment. The Center for Student Life is scheduled to be completed in August 2013.
"For the college and the community's future, it is essential that Augustana continues to take opportunities to modernize and improve," said Paul Pearson '74, the newly appointed vice president for construction and community development at Augustana. Pearson, who has worked for the college for 32 years, will lead efforts tied to improving the campus and enhancing its neighborhood.
Pearson also will oversee the final phase of renovations to Old Main. Having just completed exterior renovations, the college now is focusing on Old Main's interior work, which is scheduled to begin this summer.
"This is quite an important time for Augustana," said Steve Bahls, Augustana president. "With these two major projects in the developmental stage, significant efforts are under way to support the continued improvement of our buildings, campus and surroundings."
He added, "We anticipate the pace of construction at Augustana will increase to levels the college hasn't experienced in years."
Also under Pearson's leadership, new community task forces will be established to address strengthening the neighborhood that surrounds the college. "A core value for Augustana is being a good neighbor," said Pearson, who will spearhead an internal task force and an external advisory committee. "Strengthening our relationships with neighbors benefits both the college and the community."
The task forces will help the college and the community determine the barriers to strengthening the commercial viability of the neighborhood, as well as the housing stock in areas close to campus. These plans to positively affect the Quad-Cities community, through new construction, renovations and initiatives to strengthen the surrounding neighborhood, reflect priorities in the college's strategic plan, Affirm Our Mission, Assure Our Future and Assess Our Results.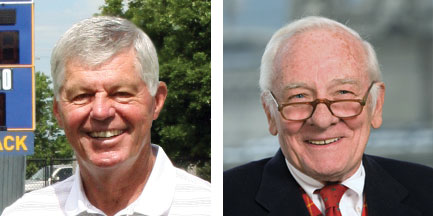 Ken Anderson '71 and Charles Lindberg '50

Planning begins for Ericson Field, Carver Center
Augustana will partner with Hastings and Chivetta, an architecture firm based in St. Louis, to begin planning a major renovation and new construction project at the college's football field and physical education building-thanks to the leadership of Ken Anderson '71, former Cincinnati Bengals quarterback, and the generosity of the Austin E. Knowlton Foundation. Charles Lindberg, a 1950 graduate of Augustana, is a trustee of the Knowlton Foundation.
Tentative plans include stadium and locker room improvements, all-weather turf, and the addition of team meeting rooms.
Augustana received an initial $100,000 planning grant from the Cincinnati-based Knowlton Foundation. President of the College Steve Bahls looks forward to working with Hastings and Chivetta, one of the nation's leading firms in the design of collegiate athletic environments.
"The Knowlton Foundation has challenged the college to prepare plans for top-notch Division III football facilities," Bahls said. "Our goal is to upgrade facilities to better match the quality of our athletics program and the overall Augustana experience. We're indebted to the Knowlton Foundation for their help in accomplishing our objectives."
The Knowlton Foundation was established by Ohio businessman and philanthropist Austin E. Knowlton, who funded it throughout his lifetime and through a provision in his will. Previous gifts from the foundation to Augustana include Knowlton's Ohio and Colorado homes, which were sold to fund the Austin E. Knowlton Memorial Scholarship and the Austin E. Knowlton Honors Program.
Bahls said this most recent gift supports the college's five-year capital improvement plan. "Because Augustana emphasizes the student experience and student-athletes, we aspire to provide both quality athletic and academic facilities," he said.
Record interest leads to new sorority
Augustana's newest member of its Greek system, Zeta Phi Kappa social sorority, was officially recognized during Homecoming 2011. The college now has seven sororities and seven fraternities.
Adding another sorority seemed the best solution when 45 women were not placed at the end of last spring's recruitment period.
"Ken Brill (director of student activities) and I were astonished; we've never come close to having that many women not placed before," said Katey Beverlin, assistant director of student activities.
Possible factors behind the surprising number include a large and highly involved first-year class and effective recruiting by established sororities, Beverlin said.
In the spirit of making the Greeks an inclusive community and to ensure established sororities don't grow too large, Augustana's Office of Student Activities and the Dean of Students Office encouraged interested students to petition the Greek Council for permission to establish a new sorority.
Following approval from the Greek Council, they were approved by the college's Student Policy Committee, which comprises students, faculty and administrators.
Zeta Phi Kappa members have established their values: passion for service and scholarship, strong leadership and respect for the individual. They currently are preparing for their first recruitment as a new chapter. They hope to double their size and take a new member class of around 30 women.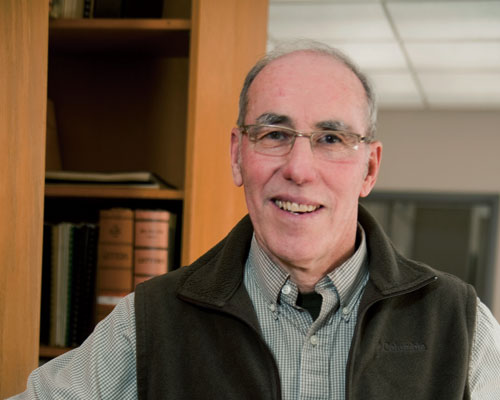 Geography professor Dr. Charles Mahaffey retired and joined his wife, Christina Johansson,
in Sweden. He plans to return to the classroom-this time as a student-to learn Swedish at the University of Gothenburg.
The day Sweden got the better of us
By Dr. Jason Peters, Dorothy J. Parkander Chair in Literature
There have been reasons to rejoice on December 16-especially for Swedes. Liv Ullman, the favored Norwegian actress of a certain brooding Scandinavian filmmaker, was born this day in 1938. And let us not forget a very great Swede, Benny Andersson of ABBA, born Dec. 16, 1946. (Beethoven, too, in 1770, though he didn't have a drop of Swedish blood in him.)
But I shall remember December 16 as the day Sweden got the better of us, for on that day my friend and colleague Charlie Mahaffey ended his 34-year teaching career in the department of geography and prepared to buck the whole trend of Swedish immigration by leaving Augustana for Gothenburg.
Don't get the wrong idea. The best of men are not global citizens. Like Charlie, they are localists. They know where they are and they care deeply about their place. Charlie's enduring concern for the sustainability of the built environment and for the ways we inhabit it is, to my mind, his great contribution to Augustana. Charlie never aspired to be native to his globe. He aspired to be native to his place.
He and I worked closely together for 15 years to help students understand their contingency as creatures of nature, their responsibilities as citizens of a given place, and their membership in local life and culture. During that time I learned far more from him than he from me. To say that I'll miss him is almost to abuse an English sentence, but I'll miss him nonetheless.
So add this to your list of reasons to pause on December 16: in 2011, a college, a city, and a region said farewell to Charlie Mahaffey, professor of geography, and began the difficult task of faring well without him.
Students raise money to host Camp Kesem for kids
Jenna Orabutt '14 is $7,500 closer to her group's goal of raising $20,000 and forming a Camp Kesem chapter at Augustana.
Camp Kesem is an organization run by college students that hosts an overnight camp for children with a parent who either has or had cancer. The $20,000 will allow 40 children to attend Augustana's Camp Kesem free of charge for a week of activities this summer at Camp Akita near Galesburg, Ill.
Orabutt and her co-chair, Cortney Lebeda '13, are working with a core group of 35 Augustana students, along with their advisors, Dr. Bohdan Dziadyk and Dr. S.A. Fenwick. Twenty-five students will go through extensive training to become camp counselors. The training comes from both the Camp Kesem and Livestrong organizations and will take place this spring.
Augustana is by far one of the smallest schools to be involved with Camp Kesem. Most host schools are among the nation's largest, including The Ohio State University and Texas A&M. Only 37 college campuses across the United States will host a Camp Kesem this year.
Orabutt's passion to bring Camp Kesem to Augustana grew out of personal experience. She was 9 years old when her mother was diagnosed with breast cancer. Her mother survived the cancer, but Orabutt has not forgotten how terrifying and painful it was to think she might lose her mother.
Camp Kesem gives children ages 6-13 who have been affected by a parent's cancer the opportunity to escape the sometimes-stressful environment at home and just be kids. For more information, visit www.campkesem.org/augustana.
Newly tenured faculty
Five Augustana College associate professors-Dr. Randall Hall (music), Dr. Ian Harrington (neuroscience), Dr. Reuben Heine (geography), Dr. Adam Kaul (anthropology) and Dr. Lina Zhou (business administration)-have been granted tenure. All began teaching at Augustana in 2005, except Dr. Adam Kaul, who arrived in 2007. View videos showcasing each professor at www.augustana.edu/newlytenured.
Back to where it all began
With a little help from friends, Mike Dolan '09 proposed to Emilie La Rotonda '09 in the rose petal-decorated basement hallway of Parkander South. And Emilie said yes! It was the exact spot where they met at the beginning of their junior year. Many Augustana students have met their future spouses on campus. During Homecoming 2011, several Augustana couples renewed their marriage vows in a ceremony led by College Chaplain Richard Priggie '74.
From Ukeustana to AugiePonics
Even though Augustana students have 150 clubs and organizations on campus from which to choose, invariably other interesting groups convene. Curious to know some of the more recent ones?
The new ukulele club, Ukeustana, attracted more than 10 members in the first few weeks of fall term. Stuart Casarotto '14 co-founded AugiePonics, a group devoted to installing hydroponic systems on campus and promoting their use. Hydroponics is the small-scale agricultural method of growing plants using only nutrient solutions and water.
Maarten Vonk, a first-year student from Rotterdam, Netherlands, found Lin Myat '13 of Myanmar, who could match his skill and speed with a paddle, and Augustana's table tennis club was born. Emily Cochran '12 is a member of the cello choir and was selected as this year's Sankta Lucia for the annual julsmörgåsbord, a Swedish Christmas celebration on campus. Cochran, surprisingly, is the president of the college's heavy metal music club.
Sarah Swindall '12 is the founder and captain of Augustana's quidditch team. As she notes in her blog, "Never will you get another chance to be involved in something like you do when you are at college." So true, so true.
1950 alumnus one of three new trustees
Augustana is pleased to welcome three new members to the Board of Trustees, including two leaders from the Quad-Cities area. Mary Junck from Pleasant Valley, Iowa; Charles Lindberg '50 from Cincinnati, Ohio; and Robert Ontiveros from Moline, Ill., each will serve a four-year term ending in 2015.
"These new members represent two invaluable constituencies to the college," said President of the College Steve Bahls, "in that Bob and Mary are both local leaders with reputations that redound to our community's benefit far beyond the Quad Cities, and Charles is among the thousands of Augustana graduates who have gone on to great success far from their alma mater, yet remain dedicated to the college's mission, as well as its success in fulfilling that mission."
Junck is chairman, president and chief executive officer of Lee Enterprises, a provider of local news, information and advertising in primarily midsize markets. She is chairman of the Associated Press and a board member of the Newspaper Association of America. Junck also serves on the boards of the Q.C. Chamber of Commerce and Putnam Museum.
A 1950 graduate of Augustana and a 1953 graduate of Yale Law School, Lindberg is of counsel in the law firm of Taft Stettinius & Hollister, LLP. He practices in the corporate area and has served on the boards of such organizations as the Cincinnati Reds; Gibson Greetings, Inc.; the Cincinnati Bengals, Inc.; the Greater Cincinnati Chamber of Commerce; and the Cincinnati Public School Board.
Ontiveros is chairman of Group O, a company he founded in 1974. Group O provides marketing, packaging and supply-chain services across the country and is the ninth largest Hispanic-owned business in the United States. In 2008, Ontiveros founded the Greater Quad Cities Hispanic Chamber of Commerce, and he currently serves as a board member for the Boys & Girls Club of the Mississippi Valley. Among his honors, Ontiveros received the Legacy Award from the U.S. Department of Commerce.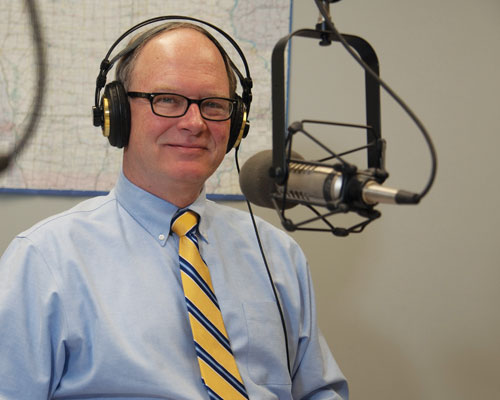 Jay Pearce
WVIK's Jay Pearce appreciates smaller school atmosphere
It didn't take long for Jay Pearce to notice a big difference when he began his duties as general manager of WVIK 90.3 FM, Augustana Public Radio.
"I came from a large and incredibly bureaucratic university where it seemed like it took an eternity to get anything accomplished," Pearce said. "Here, people from my staff and the students we employ to the senior administration and everyone in between have been most welcoming and supportive. And they're eager to work together to make great things happen."
This year's agenda includes renovating the infrastructure of WVIK, launching a survey of listeners and potential listeners, and working with the college's communication and marketing team on a branding and marketing campaign for the radio station, including a new website.
"Augustana sees WVIK as one of the foremost expressions of its commitment to the Quad-Cities region," said Steve Bahls, Augustana president. "I expect that Jay's considerable management skills, combined with his highly attuned sense of the important role public radio can play in a community, will help lead WVIK to even greater prominence in the Quad Cities and beyond."
While working at Illinois Public Media, Pearce was responsible for locally created content for WILL-TV/AM/FM/Online, all public broadcasting stations licensed to the University of Illinois. He also led funding efforts for Illinois Public Media's local content creation. Previously, he worked as station manager at WILL-AM/FM and program director at WILL-AM.
Pearce was appointed following a six-week national search.
"Based on his extensive experience in public radio, it's apparent that Jay understands the importance of a station that is accountable to the community it serves," Bahls said. "His work in community engagement and content development especially will bring a new and vital facet to WVIK's mission as a public radio station."
Augie Hub connects students, alumni with jobs, internships
Last fall, Augustana's Community Engagement Center launched Augie Hub to help students efficiently connect with jobs and internships. Augie Hub is part of NACElink, associated with the National Association of Colleges and Employers (NACE).
Nationally, NACElink connects more than 1,000 participating college career centers, more than 3 million active employer contacts and more than 7.2 million active students and alumni.
Through Augie Hub, Augustana students and alumni can provide résumés, search a database of employers, apply for jobs and learn about career-related events. Approved employers can search the database for good matches to available positions.
Within 24 hours of the launch, 374 students activated their accounts. To date, 918 students have logged in, and more than 100 alumni have expressed interest. In the three months since the launch, 901 internship, job and volunteer opportunities have been posted, and more than 800 employers have registered. For more information, call (309) 794-7339 or go to www.augustana.edu/augiehub.
Concert raises $1,550 for Japan's recovery
The Augustana Symphonic Band raised $1,550 last fall with a Disaster Relief Benefit Concert prior to the departure of its conductor Dr. James Lambrecht for his second guest residency in Japan. Dr. Lambrecht conducted the Musashino Academia Musicae Wind Ensemble in Tokyo for three months.
The band's benefit concert was in response to the March 2011 earthquake, tsunami and nuclear meltdown in Japan. The funds were donated to the Red Cross relief effort during Dr. Lambrecht's residency in Japan.
For the benefit concert, Dr. Lambrecht programmed a few musical works related to Japan to expose the Augustana community to Japanese musical culture. One of the works was an arrangement by his own mentor, Ray Cramer, of the popular Japanese tune Sakura Sakura. The arrangement was a gift to Musashino.
Trombonist Gaetano Iaccarino '12 notes how "Musashino tries to play as much American literature as possible-it is exciting to see how the Augustana Symphonic Band is reciprocating by playing some music of Japan."
Athletics offers live video streaming of games
Out-of-town Viking fans who want to see their teams in action may now do so without leaving the comfort of their homes.
Go to www.augustana.edu, click on the Athletics web page and then click on "Game Day/Follow the Vikings Live." To view past video streams, click the "On Demand" tab to see a list of available videos.
Augustana began video streaming during the 2011 fall sports season. Viking home football games were covered with audio commentary provided by WAUG, the college's student-run radio station. Home contests in women's and men's soccer and volleyball also were streamed.
Augustana currently is providing video streaming of the men's and women's basketball programs, as well as the Viking wrestlers. Chris Ford '86 and Dan Sand provide commentary for the men's basketball games; WAUG is announcing the
women's basketball games. No audio is provided for wrestling.
The first season of men's and women's varsity lacrosse from Augustana's Thorson-Lucken Field will be available via live-streaming this spring.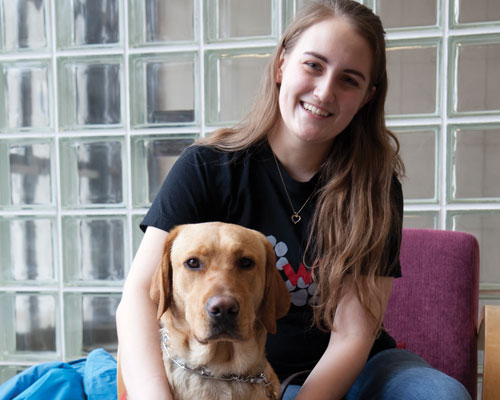 Mary Kiolbasa '15 and Knox of P.A.W.D. take a break during Knox's first day of class.
First Viking Pup adjusts to college life
Pre-occupational therapy major Mary Kiolbasa '15 has experience training service dogs, so it's natural she would want to continue animal-assisted therapy once she becomes a professional occupational therapist. To continue her own training while in college, she contacted Pups Assisting With the Disabled (P.A.W.D.), to see if they would consider a partnership.
"Luckily, they responded with great interest," Kiolbasa said. She began attending training sessions and successfully working toward having P.A.W.D. approved as a student group on campus. Along the way, she asked her friend Alexandria Roehrenbeck '15 to be her vice president.
The two received permission to bring to campus Augustana's first Viking Pup: Knox, a 2-year-old yellow Labrador Retriever.
Knox will assist his future owner with two primary types of tasks: mobility and retrieval. He will help his owner get around and even brace her when needed, serving as a support while she stands or ascends stairs. He also will retrieve anything she might drop. Since his future owner is a young student, Knox must adjust to college life.
Once Knox moves into his new job and home, Augustana will welcome two new Viking Pups from P.A.W.D., a pair of Golden Retrievers. Their names are Augie and Thor, and Kiolbasa and Roehrenbeck had everything to do with that.
Vikings 'take it to the cooker' at Thorson-Lucken Field
For the first time in the 152-year history of Augustana, varsity men's and women's lacrosse teams will take the field in early March. The new Thorson-Lucken Field, located south of the PepsiCo Center, was made possible through the generosity of 1962 grads John and Mary Thorson Lucken.
Here's a quick rundown and enough lax slang to get a lacrosse novice through the first match:
A contact sport that requires padding, lacrosse is one of the fastest growing team sports in the United States. The head of the lacrosse stick is strung with loose mesh designed to catch and hold the solid rubber ball (cookie, nut, pill, rock).
Offensively, the objective of the game is to score by shooting the ball into an opponent's goal (cooker, cage, rack), using the lacrosse stick (wand, twig) to catch, carry and pass the ball to do so.
Defensively, the objective is to keep the opposing team from scoring and to gain possession of the ball with stick checking and body contact or positioning.
The home crowd will root for Viking ballers (extremely good players), but not so much the frying pans (players who are not good cradlers and just run down the field like they're carrying a frying pan). Hopefully, our opponents are all Black Holes (ball hogs) who shoot nothing but popcorns (shots put right into the goalie's stick), while the Vikings find themselves naked (open for a shot) on their way to victory.
Source: www.e-lacrosse.com