PGA pros use '01 grad's putting aid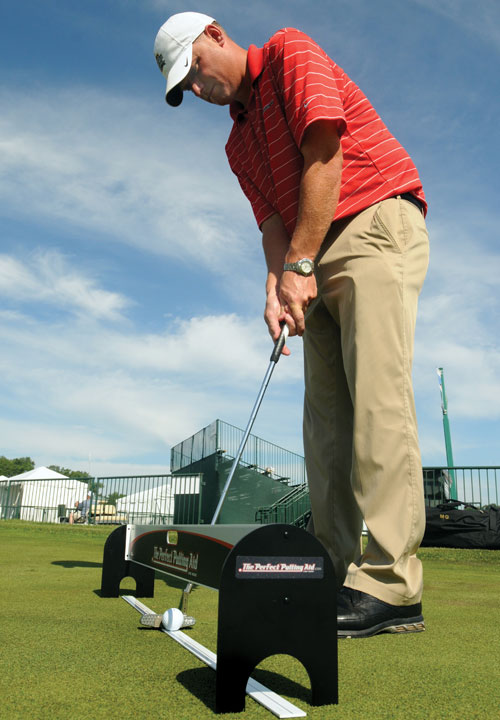 Chad Johansen '01 demonstrates his invention, The Perfect Putting AidTM
Photo courtesy of The Dispatch & The Rock Island Argus
When he was a senior at Augustana, Chad Johansen found himself a few credits shy of what he needed to graduate. A business administration/management major with four varsity letters in golf, Johansen had thought about a career affiliated with the sport he'd played since he was 12. Karen Peterson, coordinator of business internships, knew just what to do.
Petersen secured a summer internship for Johansen at Blackberry Oaks Golf Course in Bristol, Ill., near Chicago. He was able to graduate with his 2001 classmates, and after completing the internship had a full-time job. Two years later, he was Blackberry Oaks' head golf pro at the age of 23.
"And I've been here ever since," added Johansen, who is married to Erika Roloff '99. In addition to his responsibilities as the PGA head golf pro at Blackberry Oaks, Johansen, now 32, owns a teaching academy.
This brings us to the teaching tool Johansen designed and patented, with the help of 13 engineers at Montana Metal Products, which is being used on the PGA and European tours. The Perfect Putting AidTM is a system that gives immediate feedback on alignment, vision, putter path and ball roll.
"After I started my career, I created a state-of-the-art putting studio in the pro shop at Blackberry Oaks," Johansen said. "After I had left Augie, I learned a chalk line drill that helped my putting game, so I incorporated it into my teaching. However, I noticed that no one was drawing chalk lines on the practice putting greens. I just really wanted to develop something that would help golfers improve their putting."
Admittedly not known for his putting talents at Augie, Johansen introduced The Perfect Putting Aid a little over a year ago and has sold close to 750. It is marketed to the beginner golfer as well as the PGA Tour professional.
"I saw a photo of Steve Stricker using it at Riviera in February, and that was pretty exciting," Johansen said. "He's known as one of the best putters on tour." Former No. 1 player Vijay Singh and Jim Furyk are other golf pros who are using Johansen's product, in addition to Rocco Mediate, a six-time PGA Tour winner.
Now the Vikings men's golf team has The Perfect Putting Aid advantage. Johansen returned to campus last fall to celebrate Homecoming with his 2001 classmates. While he was here, he gave a putting clinic and presented The Perfect Putting Aid system as a gift to the men's team. If invited, Johansen welcomes the opportunity to work with the women's team as well.