Professor receives once-in-a-lifetime invitation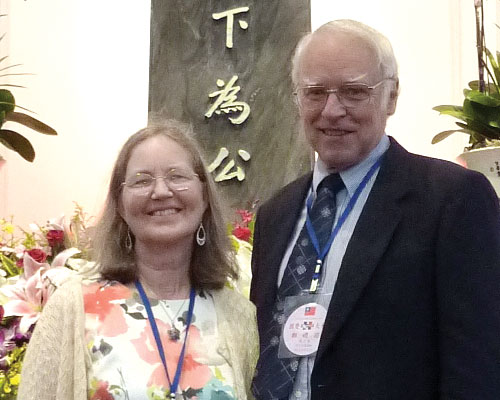 Dr. Norm Moline '64, Hamming Professor of Geography, and his wife, Janet Ahlstrom '66 Moline, in front of Sun Yat Sen in the welcome hall of the Presidential Building in Taipei City, Taiwan, after meeting President Ma Ying-jeou.

Invitations to anniversary parties are fairly commonplace, but few of us, if any, have been invited to a country's 100th anniversary celebration. Last fall, Taiwan (officially the Republic of China) celebrated its 100th anniversary on its national day, October 10. Augustana's Dr. Norm Moline '64 was there at the invitation of Taiwan's Ministry of Foreign Affairs.
"It truly was a most fascinating and pleasant experience for my wife and me to be a part of the U.S. group of about 20 people meeting President Ma Ying-jeou in the official reception room of the country's Presidential Building ... and then have excellent special seats on the main square for the morning program," said Dr. Moline, Hamming Professor of Geography and a director for the college's East Asia term. "In the early evening, we were invited guests at the national reception at the government 'guest house,' which featured fantastic food and cultural programs. I will cherish that experience for the rest of my life."
Taiwan's national day, which is called Double Ten, stems from the famous Wuchang Uprising in Wuhan, China, on Oct. 10, 1911, which quickly spread and led to the end of almost 4,000 years of dynastic rule in China in 1912.
"I received this invitation because through Augustana's East Asia term, my colleagues and I probably have brought more students to Taiwan since 1974 than anyone in the U.S.," Dr. Moline explained. Taiwan has been included in all 14 of Augustana's triennial East Asia terms. About 1,000 Augustana students have spent 10 to 14 days in Taiwan as part of the program, which usually was at the time of the annual Double Ten celebrations.
In addition, Dr. Moline has directed four ASIA Network-sponsored College in Asia institutes for professors and administrators from 25 U.S. colleges and universities with stops in Japan, Taiwan and the People's Republic of China. In Taiwan, participants visited with officials from government ministries and professors from Taiwan National University.