'99 physics grad receives first patent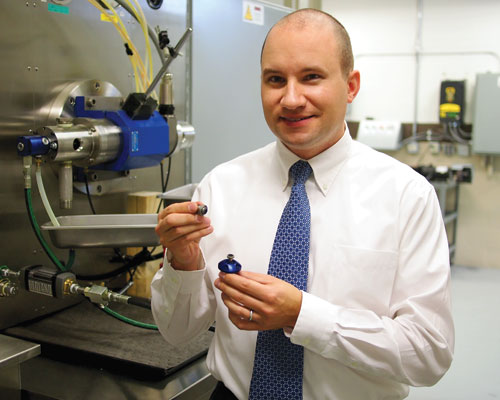 Aaron LaCroix '99 holds the two parts of the rotary union for which he received a patent. This is one of the smallest unions his company makes, with the largest ones weighing more than 500 pounds.

The next time you're going through a car wash, check out the spinning nozzles spraying your car with soap and water. These are simple examples of a rotary union-a mechanical coupling used to transfer pressurized fluid, such as water or air, from stationary to rotating machinery. Tires, plastic, paper and the microchips found in cell phones and computers are just some of the many products that could not be manufactured without rotary unions.
Aaron LaCroix '99 recently received his first American and European patents in industrial design for a new rotary union used in the machining of metal that actuates independently. This is a new feature of a rotating union that has the potential to improve machining accuracy and productivity.
As a product design engineer at Deublin Co., in Waukegan, Ill., LaCroix is responsible for new product development for machine tool rotating unions, supplier development and manufacturing support. "It has been some time since I last took a physics class," LaCroix wrote in an email to his former professor, Dr. David Renneke. "But now I make use of it in my job every day."
After he graduated from Augustana with a degree in physics, LaCroix earned a bachelor's in mechanical engineering from the University of Illinois at Urbana-Champaign. He later graduated from Lake Forest (Ill.) Graduate School of Management with a master's in business administration.
"The pre-engineering curriculum from Augustana thoroughly prepared me for the core mechanical engineering courses at the University of Illinois," LaCroix said. "In addition, the liberal arts structure from Augustana provided me with different, creative ways of approaching challenges in my courses at Illinois and now in my career that have benefited me tremendously."
With one patent to his credit, LaCroix already is working on another rotary union design that might warrant a second patent.