February 29, 2012
2011-12 Season - Defense shines in 15-2 win over Rhodes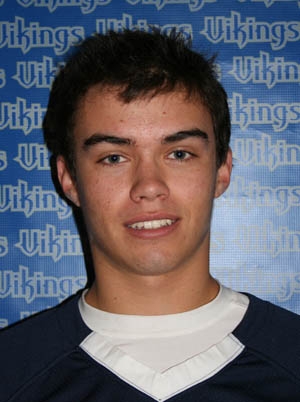 Freshman goalkeeper Cody Burgdorff recorded eight saves and allowed just two goals Wednesday as Augustana defeated Rhodes 15-2 to remain unbeaten this season.
MEMPHIS, Tenn.-Coach Kyle Hart's Augustana lacrosse squad improved to 3-0 in its first season with a 15-2 win over Rhodes Wednesday. The defense was again outstanding. The Vikings have allowed just seven goals in three matches this year, while scoring 43.
Augustana scored the first 13 goals Wednesday and the host Lynx didn't find the net until just 13:18 remained in the match.
Freshman J.G. Saunders (The Calvert School, Aquasco, Md.) gave the Vikings a 1-0 lead with his sixth goal of the season less than two minutes in. Before the contest was six minutes old, freshmen Jesse Nagelberg (St. Charles East HS, St. Charles, Ill.) and Mike McAleer (Downers Grove South HS, Bolingbrook, Ill.) made it 3-0 with goals just 20 seconds apart. Frosh Brad Anderson (Arrowhead HS, Hartland, Wis.), Doug Barrie (Lake Forest HS, Lake Forest, Ill.) and Colin Haley (St. Charles East HS, St. Charles, Ill.) each added first period goals as Augustana led 6-0 after one.
Nagelberg and Barrie also had second quarter goals as the Vikings extended the advantage to 10-0 at intermission.
Barrie scored his third goal of the match at 8:39 of the third quarter. Classmate Chris Hager (Exeter Academy, Newfields, N.H.) got his second of the day to make it 12-0 at 3:15 and Ryan Nakamoto (Naperville Central HS, Naperville, Ill.) scored his first of two goals in the match as Augustana led 13-0 after three periods.
With 13:18 left in the game, Rhodes' William Posey finally got one past Viking goalkeeper Cody Burgdorff (Peak to Peak HS, Lafayette, Colo.) to make it 13-1. A.J. Ramirez (Wheaton North HS, Winfield, Ill.) and Nakamoto scored Augustana's final two goals and Peter Hall added one for the Lynx.
The Vikings outshot Rhodes 35 to 19 in the match, including 26 to 10 in shots on goal. The visitors also had a 35 to 23 edge in ground balls. Each team turned it over five times.
Burgdorff played 55 minutes in goal, recording eight saves to improve his record to 3-0 this season. He lowered his goals against average to 2.67 and improved his save percentage to .781. Barrie, with three goals and Hager, Nagelberg and Nakamoto, with two each, paced Augustana offensively. Vincent Giglierano (Archbishop Mitty HS, San Jose, Cal.) had the Vikings' only assist.
Hart's crew closes out its southern swing with a match at Hendrix on Friday, March 2. That contest, in Conway, Arkansas is scheduled for a 7:00 p.m. start.