February 28, 2012
2011-12 Season - Vikings whitewash Alma to move to 6-2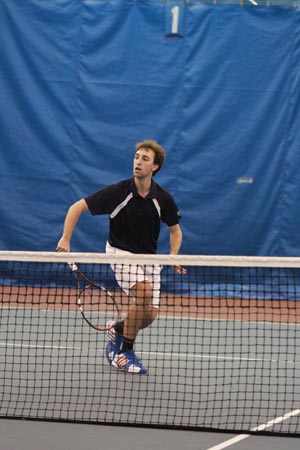 Sophomore Andy Wall picked up victories at number one doubles and number two singles as Augustana defeated Alma 9-0 on Tuesday, February 28 in Orlando, Florida.
ORLANDO, Florida - Augustana moved to 6-2 on the season with an impressive 9-0 victory over Alma on Tuesday, February 28 in Orlando, Florida. It was the second victory of the day for the Vikings, who defeated Hanover 8-1 earlier in the day.
The Vikings jumped out to a 3-0 lead after doubles play. Senior Adam DeSimone (Bettendorf HS, Bettendorf, Iowa) and sophomore Andy Wall (Notre Dame Academy, DePere, Wis.) won at number one doubles, beating Logan Beard and Mark Stuart 8-2. Lawrence Palmer (Schiller International School, El Prat de Llobregat) and Will Palmer (Schiller International School, Great Britain) beat Josh Grove and Travis Pontious at number two doubles 8-2. The double sweep was completed when sophomores Colin Arnold (Sterling HS, Sterling, Ill.) and Kevin Bayles (Homewood-Flossmoor HS, Flossmoor, Ill.) beat Gordon Rumschlag and Justin Meyer 8-6 at number three.
In singles competition, it was more of the same as Augustana won all six spots, five of those in straight sets. DeSimone beat Grove 7-5; 6-3 at number one and Wall handled Beard 6-4; 7-5 at number two. Junior Jack Cullen (Edgewood HS, Madison, Wis.), who did not play doubles in this match, beat Pontious 6-4; 6-1 at number three.
Arnold won by a score of 6-2; 6-0 over Rumschlag at number four. Freshman Maarten Vonk (Rotterdam) had the only three set match as he triumphed over Ben Schippers 2-6; 6-3; 10-2. Sophomore Grant Wick (Windsor HS, Fort Collins, Colo.) won for the second time on the day when he beat Meyer 6-3; 6-3.
Augustana 9, Alma 0
Feb 29, 2012 at
Singles competition
1. DeSimone, Adam (AUGIE) def. Josh Grove (ALMA) 7-5, 6-3
2. Wall, Andy (AUGIE) def. Logan Beard (ALMA) 6-4, 7-5
3. Cullen, Jack (AUGIE) def. Travis Pontious (ALMA) 6-4, 6-1
4. Arnold, Colin (AUGIE) def. Gordon Rumschlag (ALMA) 6-2, 6-0
5. Vonk, Maarten (AUGIE) def. Ben Schippers (ALMA) 2-6, 6-3, 10-2
6. Wick, Grant (AUGIE) def. Justin Meyer (ALMA) 6-3, 6-3
Doubles competition
1. DeSimone, Adam/Wall, Andy (AUGIE) def. Logan Beard/Mark Stuart (ALMA) 8-2
2. Palmer, Lawrence/Palmer, William (AUGIE) def. Josh Grove/Travis Pontious (ALMA) 8-2
3. Arnold, Colin/Bayles, Kevin (AUGIE) def. Gordon Rumschlag/Justin Meyer (ALMA) 8-6
Match Notes
Augustana 6-2
Alma 1-5