February 28, 2012
2011-12 Season - Sawyer wins 20th in loss to Alma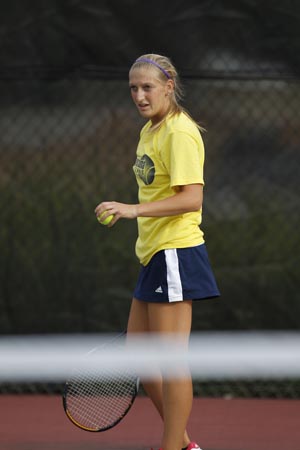 Kim Sawyer won her 20th singles match on Tuesday, February 28 over Alma. The Vikings lost 6-2 and are now 9-8 on the season.
ORLANDO, Florida - Sophomore Kim Sawyer (Batavia HS, Batavia, Ill.) won her 20th singles match of the 2011-12 season but it wasn't enough as Augustana fell to Alma 6-2 on Tuesday, February 28 in Orlando, Florida. The Vikings dropped to 9-8 on the year while Alma moved to 3-1.
Sawyer handled Jen Meloche at number one singles by a score of 6-1; 6-0 and in the process moved her record to 20-5 this season. She was 29-7 as a freshman, making her four year record at Augustana a sparkling 49-12. She teamed with junior Meghan Wethington (Geneseo HS, Geneseo, Ill.) to win at number one doubles, taking Jen Melouch and Erin Clutter by a score of 8-4. Those were the only victories on the afternoon for the Vikings.
There were some close matches that didn't go Augustana's way. Senior Brittany Reece (Neuqua Valley HS, Naperville, Ill.) dropped a tough three-setter at number two singles, falling 6-2; 1-6; 3-6 to Clutter. Junior Krista Panko (Geneva HS, Geneva, Ill.) fell to Amy Baranowski at number three by a score of 2-6; 6-4; 4-6. Sophomore Katie Scharnagle (Wheaton St. Francis HS, Lisle, Ill.) also lost in three sets at number five. She lost 6-7; 6-3; 2-6.
The number three doubles match between Brittany Miller and Lauren Moreau of Alma and sophomores Emily Kaczmarek (Glenbard South HS, Lombard, Ill.) and Caitee Margenthaler (Moline HS, Moline, Ill.) of Augustana was not finished because of court-time limitations.
Alma 6, Augustana 2
Feb 28, 2012 at Orlando, Florida
Singles competition
1. Sawyer, Kim (AUGIE) def. Jen Meloche (ALMA) 6-1, 6-0
2. Erin Clutter (ALMA) def. Reece, Brittany (AUGIE) 2-6, 6-1, 6-3
3. Amy Baranowski (ALMA) def. Panko, Krista (AUGIE) 6-2, 4-6, 6-4
4. Katie Meloche (ALMA) def. Wethington, Meghan (AUGIE) 7-5, 6-3
5. Maleah Benn (ALMA) def. Scharnagle, Katie (AUGIE) 7-6, 3-6, 6-2
6. Lauren Moreau (ALMA) def. Pence, Miranda (AUGIE) 6-2, 7-5
Doubles competition
1. Sawyer, Kim/Wethington, Meghan (AUGIE) def. Jen Meloche/Erin Clutter (ALMA) 8-4
2. Amy Baranowski/Katie Meloche (ALMA) def. Panko, Krista/Reece, Brittany (AUGIE) 8-3
3. Brittany Miller/Lauren Moreau (ALMA) vs. Kaczmarek, Emily/Margenthaler, Caitee (AUGIE) 2-1, unfinished
Match Notes
Augustana 9-8
Alma 3-1