February 28, 2012
2012 Season - Sophomores lead Vikings to 8-0 win over RHIT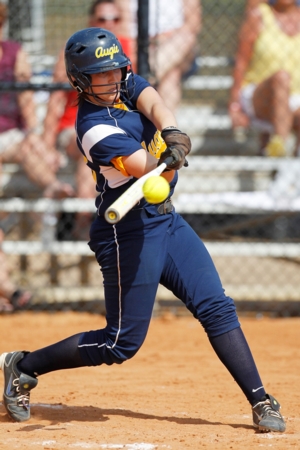 Sophomore shortstop Krista Watson had a double and two runs scored in Augustana's 8-0 win over Rose-Hulman Tuesday in Clermont, Florida.
CLERMONT, Fla.-A five-run first inning was all the Augustana softball team needed Tuesday, as it cruised to an 8-0 win over Rose-Hulman. Sophomores Krista Watson (Coal City HS, Coal City, Ill.) and Courtney Ledezma (United Township HS, East Moline, Ill.) paced the offense and Ledezma fired a one-hit shutout as the Vikings won their sixth in a row to move to 6-1 on the season.
Ledezma's two-run double in the top of the first got Augustana on the board, scoring freshman Jenna Teson (Jacobs HS, Algonquin, Ill.), who had led off the game with a single and senior Dawn Kernich (Mt. Olive HS, Mt. Olive, Ill.), who had reached on an error. Sophomore Chaney Tambling (Dwight HS, Dwight, Ill.) added a two-run single and freshman Jackie Wrona (Glenbard South HS, Wheaton, Ill.) a sacrifice fly as the Vikings got to Engineer starter Brianne Widmoyer for five runs.
In the fifth, Watson doubled and Ledezma tripled as the Vikings extended the lead to 7-0.
Augustana added the final run in the sixth. Freshman Laura Behnke (St. Francis HS, Roselle, Ill.) scored after reaching on an error.
Meanwhile Ledezma (1-1) breezed to her first win of the season. The only hit she allowed was Lindsey Watterson's two-out single in the fifth. She walked two and fanned five in six innings and just one Engineer advanced farther than first base.
Ledezma went 3-for-4 with two runs scored and three driven in. Watson scored twice as well, while Tambling drove in a pair.
Coach Kris Kistler's club continues play in Florida on Wednesday, February 29, with a 9:00 a.m. contest against SUNY-Canton.