February 28, 2012
2011-12 Season - Vikings move to 5-2 win win over Hanover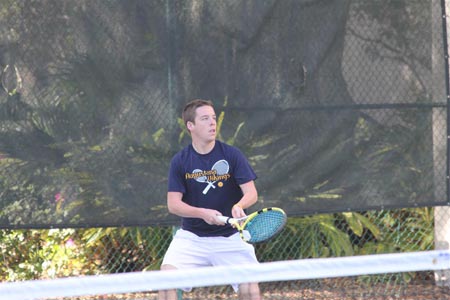 Sophomore Grant Wick picked up a 6-0; 6-0 win at number six singles as Augustana defeated Hanover 8-1 to move to 5-2 this season.
ORLANDO, Florida - A sweep of the singles matches helped spearhead Augustana's 8-1 victory over Hanover on Tuesday, February 28 in Orlando, Florida. The Vikings moved to 5-2 on the season with the win.
Freshman Lawrence Palmer (Schiller International School, El Prat de Llobregat) played at number one singles for the first time this season and he responded with a 6-0; 6-1 win over Steven Gilliam. Sophomore Andy Wall (Notre Dame Academy, DePere, Wis.) beat Brandon Ramsey 6-2; 7-6 at number two and junior Jack Cullen (Edgewood HS, Madsion, Wis.) picked up a 6-1; 6-2 triumph over Sam Werne at number three.
Sophomore Kevin Bayles (Homewood-Flossmoor HS, Flossmoor, Ill.) handled Kyle Bohnert 6-2; 6-0 at number four and freshman Marten Vonk (Rotterdam) beat Matt Strandmark at number five 7-6; 6-4. Sophomore Grant Wick (Windsor HS, Fort Collins, Colo.) shut out Max Erlewein at number six 6-0; 6-0.
Senior Adam DeSimone (Bettendorf HS, Bettendorf, Iowa) and Wall beat Gilliam and Ramsey at number one doubles 8-6 and Cullen and sophomore Colin Arnold (Sterling HS, Sterling, Ill.) beat Derek Zimmers and Austin Veach 8-1 at number three.
#5 Augustana 8, Hanover 1
Feb 28, 2012 at Orlando, Florida
Singles competition
1. Palmer, Lawrence (AUGIE) def. Steven Gilliam (HANOVER) 6-0, 6-1
2. Wall, Andy (AUGIE) def. Brandon Ramsey (HANOVER) 6-2, 7-6
3. Cullen, Jack (AUGIE) def. Sam Werne (HANOVER) 6-1, 6-2
4. Bayles, Kevin (AUGIE) def. Kyle Bohnert (HANOVER) 6-2, 6-0
5. Vonk, Maarten (AUGIE) def. Matt Strandmark (HANOVER) 7-6, 6-4
6. Wick, Grant (AUGIE) def. Max Erlewein (HANOVER) 6-0, 6-0
Doubles competition
1. DeSimone, Adam/Wall, Andy (AUGIE) def. Steven Gilliam/Brandon Ramsey (HANOVER) 8-6
2. Matt Strandmark/Sam Werne (HANOVER) def. Palmer, William/Palmer, Lawrence (AUGIE) 8-5
3. Cullen, Jack/Arnold, Colin (AUGIE) def. Derek Zimmers/Austin Veach (HANOVER) 8-1