February 27, 2012
2011-12 Season - First half Centre burst sinks Vikings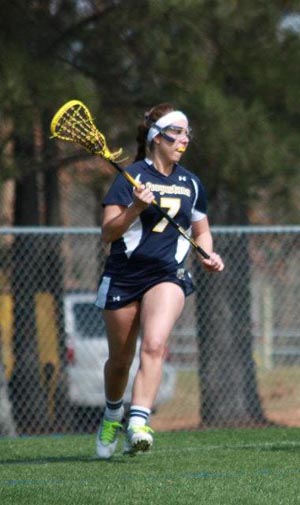 Christina Letmanski scored three goals in the Vikings 15-7 loss at Centre on Monday, February 27.
DANVILLE, Kentucky - Centre scored seven unanswered goals in the first half and that propelled the Praying Colonels to a 15-7 victory over Augustana on Monday, February 27 in Danville, Kentucky. It was the final match of the spring-break trip for the Vikings as they begin their initial season of varsity competition in women's lacrosse.
Centre scored first when Claiborne Willis tallied just :35 into the contest on a free position shot. Augustana answered when freshman Christina Letmanski (Glenbard West HS, Wheaton, Ill.) scored off a Hilary Kargl (Sacred Heart Academy HS, Louisville, Kent.) assist at 27:01.
The next seven goals all went to the Praying Colonels, however and when Sarah Mastey scored on a free position shot with 5:54 left to play in the first half, Centre owned an 8-1 lead. Letmanski scored her second goal of the game on a free position shot at 3:23 to make it 8-2 at intermission.
In the second half the Vikings offense got going and with 8:50 left in the game, a goal by Allie Roehrenbeck (Columbus Academy, Gahanna, Ohio) off a feed from Kargl trimmed the margin to just four (10-6). Kargl opened the second half with a goal off an assist by Letmanski at 26:48 to make it 9-3 and Letmanski's unassisted goal at 20:29 made it 9-4. Mastey scored for Centre at 11:37 to make it 10-4 and then Kargl tallied at 10:30 to cut things to 10-5.
Following the goal by Roehrenbeck at 8:50 Centre scored two goals just eight seconds apart to create some breathing room. Meg Hawthorne scored at 5:19 to bump the margin to 11-6 and Audrey Powers hit the back of the net at 5:11 to raise the ante to 12-6.
The last Augustana goal came at 4:11 when Kelly Stelzer (Wheaton-Warrenville South HS, Wheaton, Ill.) scored with Roehrenbeck collecting the assist. Centre scored the game's final three goals to account for the final score of 15-7.
The Vikings ended the spring-break trip with a 3-2 record and lost one match (February 24 at LaGrange) due to rain. Augustana will open the home portion of its schedule on Saturday, March 10 against Fontbonne at Thorson-Lucken Field. Game time is set for 11:00 a.m.