February 27, 2012
2012 Season - Vikings move to 3-2 with win over MSOE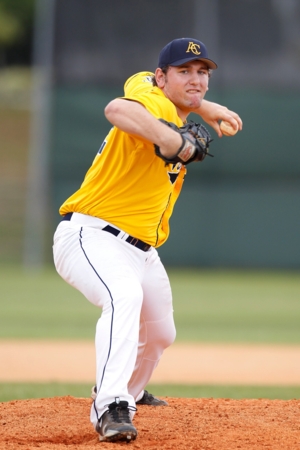 Junior left-hander Rick Erickson threw two scoreless innings in relief Monday to pick up the win in Augustana's 4-2 victory over Milwaukee School of Engineering.
WINTER HAVEN, Fla.-An RBI double by junior catcher Jim Sandberg (JK Mullen HS, Littleton, Colo.) in the bottom on the seventh inning put Augustana on top 3-2 and the Vikings went on to a 4-2 win over Milwaukee School of Engineering in Florida Monday. Junior southpaw Rick Erickson (Lake Zurich HS, Hawthorn Woods, Ill.) picked up the win out of the bullpen as the Vikings improved to 3-2 on the season.
Starting pitchers David Miklosi of MSOE and freshman Kevin Hodgman (Neuqua Valley HS, Naperville, Ill.) of Augustana both handcuffed the opposition early. Each was perfect through three innings. The Raiders' Adam Vlaj became the game's first baserunner when he touched Hodgman for a one-out single in the fourth, but he was erased on an inning-ending double play. Senior Kevin Serna (Rolling Meadows HS, Arlington Heights, Ill.) was the first Viking to reach base, with a one-out single in the bottom of the frame. He was left stranded after reaching second on a wild pitch.
In the Raider fifth, Hodgman retired the first two batters before Maxwell Poeske singled. Zane Miller followed with a double to right, but Serna's throw hit junior second baseman Kurt Schmidt (Grayslake Central HS, Grayslake, Ill.), whose relay to Sandberg cut down Poeske at the plate to keep the game scoreless.
Senior Mike Barker (Centennial, Colo. Grandview HS, Marina Del Rey, Cal.) led off the Viking fifth with a single and gave Augustana a 1-0 lead when he came around to score on a Mark VanNatta (Alleman HS, Moline, Ill.) triple.
The Raiders finally got to Hodgman in the sixth. The freshman right-hander walked the first three batters before yielding to Erickson, who gave up a game-tying sacrifice fly and a go-ahead single before inducing a double play to end the inning. Both runs were charged to Hodgman.
It was still 2-1 MSOE when Barker led off the bottom of the seventh with a double. He scored the tying run when junior third baseman Joe Cecchi (Romeoville HS, Romeoville, Ill.) reached on an error. VanNatta sacrificed Cecchi to third and Sandberg followed with his go-ahead double. Schmidt doubled and scored the game's final run in the bottom of the eighth.
Freshman right-hander Eric Egan (Oswego East HS, Aurora, Ill.) came on in relief of Erickson to start the eighth and threw two scoreless innings to close out the contest and pick up his first save.
Erickson's (1-0) two scoreless earned him the victory. Barker paced the Viking offense with two hits and two runs scored.
Next up for coach Greg Wallace's club is a game against Rose-Hulman on Tuesday, February 28 at 11:00 a.m.