February 27, 2012
2012 Season - Yaros, Hintz shine as Vikings win two more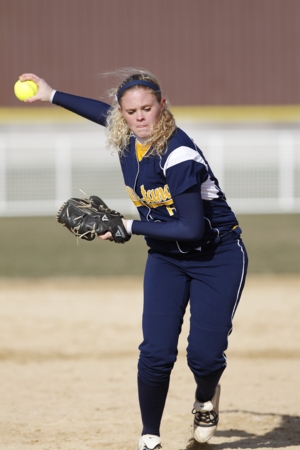 Sophomore Ashley Yaros hurled a complete game, two-hit shutout Monday and also drove in the game-winning run in a 2-0 win over Ferrum in Clermont, Florida.
CLERMONT, Fla.-Sophomore hurlers Sarah Hintz (LeRoy HS, Leroy, Ill.) and Ashley Yaros (Stagg HS, Palos Hills, Ill.) each picked up victories Monday as Augustana defeated Alma 11-7 and Ferrum 2-0 to improve to 5-1 on the season. Hintz (4-0) got her third win out of the bullpen this season in the Alma game and Yaros (1-0) fired a complete game two-hitter against Ferrum.
Augustana 11, Alma 7
Sophomore Chaney Tambling (Dwight HS, Dwight, Ill.) came through with a two-out, two-run double in the top of the fifth to give Augustana an 8-7 lead, capping the team's second comeback of the game against Alma. Sophomore Krista Watson (Coal City HS, Coal City, Ill.) added a two-run double in a three-run sixth inning that accounted for the final score.
Augustana grabbed a 2-0 lead in the top of the first. Freshman Jenna Teson (Jacobs HS, Algonquin, Ill.) and senior Dawn Kernich (Mt. Olive HS, Mt. Olive, Ill.) started the inning with back-to-back singles. Teson scored on a Watson sacrifice fly and Kernich came around to score on a single to right by sophomore Courtney Ledezma (United Township HS, East Moline, Ill.).
Ledezma, who also got the pitching start, got through an uneventful first inning, but ran into trouble in the second. The Scots parlayed three hits, two walks and an Augustana error into five runs and knocked Ledezma from the circle in favor of sophomore Jamie Rehmert (Sterling HS, Sterling, Ill.). Ledezma stayed in the lineup, however and led off a three-run Viking fourth with a single. The biggest hit in the frame was Rehmert's two-out, two-run home run that tied the game at five.
Alma retook the lead with two runs off Rehmert in the bottom of the fourth, but Hintz came in and got the final out of the inning, leaving the bases full of Scots.
Alma pitcher Cori Witham, who had come in relief of starter Breu Olling, got the first two Vikings to start the fifth. However, Watson singled, Ledezma walked and freshman Christie Wiersema (Morrison HS, Morrison, Ill.) delivered an RBI single to left to cut the deficit to 7-6 and set the stage for Tambling.
Hintz closed things out, allowing just one Alma hit over the final three innings while walking two and fanning four. She moved to 4-0 on the season and is unscored upon in 12 innings.
Teson, Watson, Ledezma and Wiersema each had two hits and Watson drove in three runs.
Augustana 2, Ferrum 0
Yaros was the story in the Vikings' second game of the day. She went the full seven innings, giving up just two singles and one walk while fanning two. She also got credit for the game-winning RBI, driving in Augustana's first run of the game with a fourth-inning single to right.
Ferrum starter Hannah Shumaker shut the Vikings out over the first three innings, but Ledezma's one-out single in the fourth set up Augustana's first score. Wiersema forced Ledezma with a grounder to second, but after a walk to Tambling, came around to score the game's first run on Yaros' single.
Sophomore Lauren Schneiderbauer (Sterling HS, Sterling, Ill.) scored the Vikings' second run on Wiersema's sixth-inning groundout.
Coach Kris Kistler's club continues play in Florida with a Tuesday, February 28 contest against Rose-Hulman. First pitch is scheduled for 1:00 p.m.