February 26, 2012
2011-12 Season - Spring trip starts with 9-0 win over Capital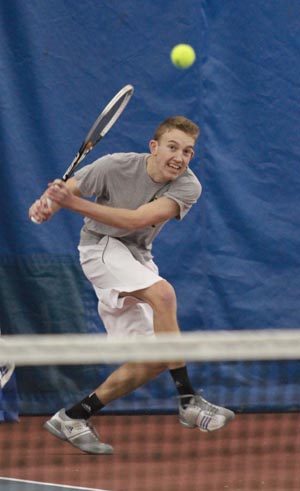 Freshman Lawrence Palmer picked up victories at number two singles and number two doubles as the Vikings moved to 4-1 with a 9-0 victory over Capital on Sunday, February 26 in Orlando, Florida.
ORLANDO, Florida - Augustana was impressive in its opening performance on its spring break trip, defeating Capital 9-0 on Sunday, February 26 at Oak Street Park in Orlando, Florida. The Vikings jumped out to 3-0 lead after doubles and then cruised through the singles, losing only nine games.
Senior Adam DeSimone (Bettendorf HS, Bettendorf, Iowa) and sophomore Andy Wall (Notre Dame Academy, DePere, Wis.) got things going with an 8-3 win at number one doubles over Kenny Duncan and Tommy Stein. The Palmer brothers, junior Will (Schiller International School, Great Britain) and freshman Lawrence (Schiller International School, El Prat de Llobregat) picked up an 8-2 win at number two doubles against John Murray and Doug Bugel-Bryant. The number three team of sophomore Colin Arnold (Sterling HS, Sterling, Ill.) and junior Jack Cullen (Edgewood HS, Madison, Wis.) beat Josh Dotson and Adrian Tolentino 8-3.
After jumping out to that 3-0 lead, Augustana didn't slow down in singles play. DeSimone beat Murray 6-2; 6-2 at number one and Lawrence Palmer handled Duncan 6-1; 6-2 at number two. Wall defeated Stein 6-0; 6-1 at number three and Cullen beat Dotson 6-0; 6-0 at four. Arnold also posted a 6-0; 6-0 win, this one at number five over Tolentino and sophomore Kevin Bayles (Homewood-Flossmoor HS, Flossmoor, Ill.) beat Bagel-Bryant 6-1; 6-1 at number six.
Augustana is now 4-1 on the season and will play Davenport University on Monday, February 27 in Orlando.
Augustana 9, Capital 0
Feb 26, 2012 at Orlando, Florida
Singles competition
1. DeSimone, Adam (AUGIE) def. Murray, John (CAPITAL) 6-2, 6-1
2. Palmer, Lawrence (AUGIE) def. Duncan, Kenny (CAPITAL) 6-1, 6-2
3. Wall, Andy (AUGIE) def. Stein, Tommy (CAPITAL) 6-0, 6-1
4. Cullen, Jack (AUGIE) def. Dotson, Josh (CAPITAL) 6-0, 6-0
5. Arnold, Colin (AUGIE) def. Tolentino, Adrian (CAPITAL) 6-0, 6-0
6. Bayles, Kevin (AUGIE) def. Bagel-Bryant, Doug (CAPITAL) 6-1, 6-1
Doubles competition
1. DeSimone, Adam/Wall, Andy (AUGIE) def. Duncan, Kenny/Stein, Tommy (CAPITAL) 8-3
2. Palmer, William/Palmer, Lawrence (AUGIE) def. Murray, John/Bagel-Bryant, Doug (CAPITAL) 8-2
3. Arnold, Colin/Cullen, Jack (AUGIE) def. Dotson, Josh/Tolentino, Adrian (CAPITAL) 8-3
Match Notes
Augustana 4-1
Capital 2-5