February 26, 2012
2011-12 Season - Women's tennis begins spring trip with win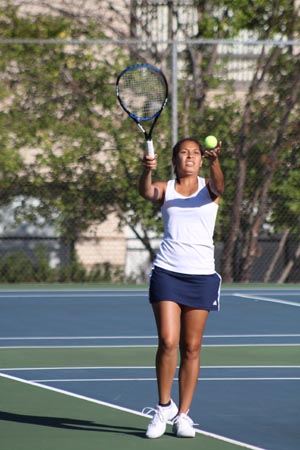 Sophomore Mariah Bardo had the toughest match of all in Augustana's 9-0 victory over Capital on Sunday, February 26 in Orlando, Florida. She had to fight off match point at number six singles before defeating Corinne Hohenstul 6-7; 6-0, 14-12 to move her record to 11-7 on the season.
ORLANDO, Florida - The Augustana women's tennis team was impressive in the first match of its spring break trip, defeating Capital 9-0 on Sunday, February 26 at Oak Street Park in Orlando, Florida. It had been nearly five months since head coach Jon Miedema's team had been in competition but the Vikings showed no adverse affect from the long layoff.
The match started with singles, instead of the customary doubles rotation and Augustana jumped out to an early lead, sealing the victory with six straight wins.
Sophomore Kim Sawyer (Batavia HS, Batavia, Ill.) raised her record to 18-4 on the year with a 6-0; 6-1 win over Betsy McLaughlin at number one. Senior Brittany Reece (Neuqua Valley HS, Naperville, Ill.) beat Alyssa Trier 6-1; 6-3 at number two and junior Krista Panko (Geneva HS, Geneva, Ill.) handled Michelle Guy 6-1; 6-1 at number three.
Junior Megan Wethington (Geneseo HS, Geneseo, Ill.) had a struggle at number four before winning 6-4; 7-5 over Rebecca Hunt. Sophomore Katie Scharnagle (Wheaton St. Francis HS, Lisle, Ill.) had the easiest time, rolling over Colleen Hooks 6-0; 6-0 at number five.
Sophomore Mariah Bardo (Sterling HS, Sterling, Ill.) locked up with Corinne Hohenstul in a tough match at number six. Hohenstul won the first set 7-6 before Bardo roared back to a 6-0 win in the second. The third and deciding set went to Bardo 14-12 and she had to fight off match point to get the win.
In doubles competition, the three Augustana teams won by a combined score of 24-1. Wethington and Sawyer beat McLaughlin and Trier 8-1 at number one and Reece and Panko beat Collyn Weaver and Guy 8-0 at number two. At number three sophomore Emily Kaczmarek (Glenbard South HS, Lombard, Ill.) and Caitee Margenthaler (Moline HS, Moline, Ill.) defeated Hooks and Katie McFarland at number three 8-0.
Augustana moved to 8-6 while Capital fell to 1-2. The Vikings will play Davenport on Monday, February 27 in Orlando.
Augustana 9, Capital 0
Feb 26, 2012 at Orlando, Florida (Oak Street Park)
Singles competition
1. Sawyer, Kim (AUGIE) def. McLaughlin, Betsy (CAPITAL) 6-0, 6-1
2. Reece, Brittany (AUGIE) def. Trier, Alyssa (CAPITAL) 6-1, 6-3
3. Panko, Krista (AUGIE) def. Guy, Michelle (CAPITAL) 6-1, 6-1
4. Wethington, Meghan (AUGIE) def. Hunt, Rebecca (CAPITAL) 6-4, 7-5
5. Scharnagle, Katie (AUGIE) def. Hooks, Colleen (CAPITAL) 6-0, 6-0
6. Bardo, Mariah (AUGIE) def. Hohenstul, Corinne (CAPITAL) 6-7, 6-0, 14-12
Doubles competition
1. Wethington, Meghan/Sawyer, Kim (AUGIE) def. McLaughlin, Betsy/Trier, Alyssa (CAPITAL) 8-1
2. Reece, Brittany/Panko, Krista (AUGIE) def. Weaver, Collyn/Guy, Michelle (CAPITAL) 8-0
3. Kaczmarek, Emily/Margenthaler, Caitee (AUGIE) def. McFarland, Katie/Hooks, Colleen (CAPITAL) 8-0
Match Notes
Augustana 8-6
Capital 1-2