February 25, 2012
2012 Season - Juhl's four hits not enough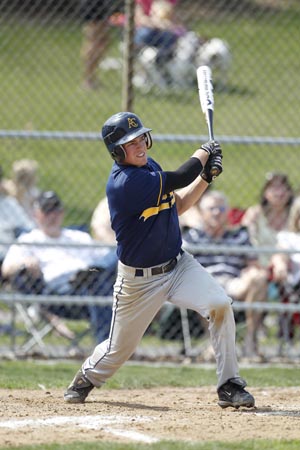 Jeremy Juhl collected four hits but it wasn't enough as the Vikings fell to Franklin 12-4 on Saturday, February 25 in Auburndale, Florida.
AUBURNDALE, Fla.-Despite four hits from junior leadoff man Jeremy Juhl (Glenbard East HS, Lombard, Ill.), Augustana dropped a 12-4 decision to Franklin Saturday in Florida. Junior Joe Cecchi (Romeoville HS, Romeoville, Ill.) and senior Mike Barker (Centennial, Colo. Grandview HS, Marina Del Rey, Cal.) each had a pair of hits as well. The loss drops the Vikings to 2-2 on the season, while the game was the season opener for the Grizzlies.
Franklin, the preseason favorite in the Heartland Conference, pounded four Viking pitchers, none of whom got through the game unscored upon. The biggest thorn in the side of Augustana's hurlers was Grizzly catcher Jesse Wilson, who rapped out six singles in a many at-bats and drove in seven runs.
Wilson had a two-run single in the first off freshman Seth Davis (JK Mullen HS, Boulder, Colo.). He added an RBI single in the third and Franklin added another run in the frame to take a 4-0 lead. The Grizzlies extended it to 7-0 with three in the fifth, one of which came on yet another Wilson RBI single.
The Vikings got on the board in the bottom of the sixth. Junior first baseman Grant Stewart (Sterling HS, Sterling, Ill.) drew a one-out walk and eventually came around to score on a single by Barker, who later came home on an error to cut the deficit to 7-2.
The Grizzlies scored three in the eighth, including a pair on Wilson's fifth single of the game, and two more in the top of the ninth. Not surprisingly, Franklin plated its final run on a Wilson RBI single. Sophomore Jacob VanDuyne (Wilmington HS, Wilmington, Ill.) opened the bottom of the ninth with a double and came around to score on a Juhl hit. Juhl scored later on an infield grounder by freshman Danny Fifer (Lincoln-Way West HS, New Lenox, Ill.) to account for the final score.
Franklin's Nathan Ellis allowed just one earned run in 6 1/3 innings to earn the win. Davis went four innings and took the loss in his collegiate debut.