February 25, 2012
2011-12 Season - Three Vikings punch national tickets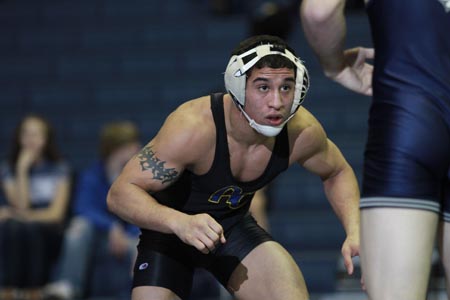 Senior Alberto Quiros finished second at 149 pounds in the NCAA Division III Great Lakes Regional on Saturday, February 25 in Minneapolis, Minnesota and was one of three Vikings to qualify for the NCAA National Tournament on March 9-10 in LaCrosse, Wisconsin.
MINNEAPOLIS, Minnesota - Augustana will be sending three wrestlers to the NCAA Division III National Tournament on March 9-10 in LaCrosse, Wisconsin after the Vikings placed sixth in the Great Lakes Regional in Minneapolis, Minnesota on Saturday, February 25. Senior Alberto Quiros (Morton East HS, Cicero, Ill), junior Matt Burns (Naperville Central HS, Naperville, Ill.) and sophomore Jordan Richardson (Grandville HS, Wyoming, Mich.) all punched their tickets by virtue of top-three finishes in the regional.
Quiros placed second at 149 pounds while Burns and Richardson were both third at 165 and 174 pounds respectively. Freshman John Seaman (Munster HS, Munster, Ind.) took fourth at 285 pounds and finished just one place shy of qualifying for the national tournament. The top three finishers in each weight class won automatic spots and then four other wrestlers were selected for at-large positions.
Augustana scored 67.5 points to place sixth in the 15 team field. Augsburg won the event with 172.5 points while St. John's was second with 110.5 and Elmhurst, the CCIW champion, took third with 108.5. St. Olaf was fourth with 89 and Concordia-Moorhead placed fifth with 87.5. Behind Augustana were North Central (53), Chicago (49.5), MSOE (41), Lakeland (40.5), Wheaton (31.5), Pacific (17.5), Concordia-Wisconsin (16.5), Knox (9.5) and Maranatha Baptist (8).
As he has all season long, it was Quiros who led the way for head coach Eric Juergens' Vikings. Quiros took second at 149 pounds, losing to undefeated Tony Valek of Augsburg 7-4 in the final. Quiros got to the championship match by beating Ryan Arne of St. John's 13-7 in the quarter finals and Roberto Frias of Lakeland 4-2 in the semi-finals. Quiros is now 36-9 on the season.
Burns defeated Collin Jergenson of St. Olaf 7-1 for third place at 165 and now has a 27-15 record heading into the national meet. He started his day with a pin at 3:29 of his opening round match against Blake Olson of North Central. He then beat Mike Ryan of Elmhurst 3-1 in the quarter-finals before falling to eventual champion Ryan Renon of Lakeland 7-2 in the semi-finals. He beat Peter Koostra in the wrestle-backs 12-2 before handling Jergenson for third.
Richardson earned his spot in the national meet the hard way. He lost to Caleb Malychewski of Pacific 3-1 in his opening match, forcing him to come through the back draw with four straight victories. He pinned Jake Reuteler of Concordia-Wisconsin at 1:59 to start his comeback. He then pinned Danny Balderas of Elmhurst at 2:41 and beat Josh Kohler of Augsburg 6-4 to set up a third place match against Caleb Malychewski of Pacific. He pinned Malychewski at 5:47 to up his record to 36-8 on the year.
Seaman was pinned by Brian Brooks of Elmhurst at 3:18 of his opening match but won three straight in the wrestle-back. He pinned Jeff Tyburski of Chicago at 4:53, beat John Scepaniak of St. John's in a wild 17-10 affair and pinned James Wagner of Knox at 2:39 to set up a rematch with Brooks for third place. Brooks pinned Seaman again, this time in 39 seconds and Seaman's season ended at 16-8.