February 25, 2012
2011-12 Season - Haley's four goals lift Vikings to second win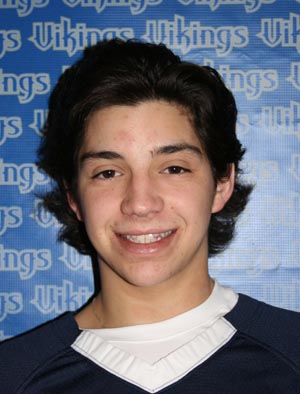 Colin Haley scored four goals as Augustana defeated Huntingdon 11-2 to move to 2-0 on the season.
MONTGOMERY, Ala. - A four-goal outburst by freshman Colin Haley (St. Charles East HS, St. Charles, Ill.) helped lead Augustana to its second victory of the season by a score of 11-2 over Huntingdon on Saturday, February 25 at Samford Stadium in Montgomery, Alabama. After spotting Huntingdon a 1-0 early in the game, the Vikings scored the next seven goals to take command and run their record to 2-0.
After Brandon Sewell of Huntingdon scored off a Tyler Campbell assist at the 8:42 mark of the first quarter, Haley tied the match with an unassisted goal at 5:03. The first period ended with the score tied 1-1 but Augustana exploded for four goals in the second stanza.
Freshman Jeremy Gottardo (Jacobs HS, Algonquin, Ill.) scored off a Jesse Nagelberg (St. Charles East HS, St. Charles, Ill.) assist at 12:38 to give the Vikings a lead they would not relinquish. Haley's second goal of the contest at 10:39 made it 3-1 and Vincent Giglierano (Archbishop Mitty HS, San Jose, Calif.) scored at 9:19 and Tim Fennelly (Littleton HS, Centennial, Colo.) hit the back of the nets at 2:19 to give the visitors a 5-1 lead at halftime.
Nagelberg scored off a Doug Barrie (Lake Forest HS, Lake Forest, Ill.) assist early in the third period (11:50) and A.J. Ramirez (Wheaton North HS, Winfield, Ill.) tallied at 11:40 to make it 7-1 and give the Vikings their seventh straight goal.
Gavin Carey scored at 6:12 of the third to break the Augustana run of goals but Haley answered with his third of the day at 2:46 off a Nagelberg assist.
In the fourth period the Vikings got goals from Fennelly (10:16), J.G. Saunders (The Calverton School, Aquasco, Md.) (3:20) and Haley (2:51) to end the scoring. Junior Zack McGinnis (New Trier HS, Kenilworth, Ill.) assisted on Haley's last goal.
Augustana dominated the game, outshooting Huntingdon 41-23. Cody Burgdorff (Peak-to-Peak HS, Lafayette, Colo.) played nearly 58 minutes (57:09) in goal and had 12 saves while allowing just two goals and he picked up the victory.
The Vikings will continue their spring break trip with a match on February 29 against Rhodes College in Memphis, Tennessee at 2:00 p.m.