February 25, 2012
2011-12 Season - Roehrenbeck's OT goal lifts Vikings over Berry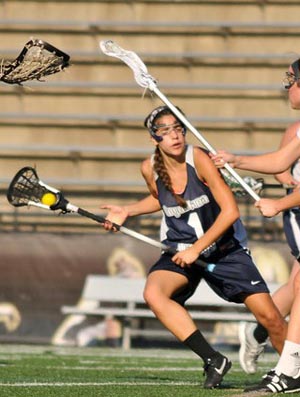 Freshman Gina Filippo tied for the Vikings lead in assists with three during Augustana's thrilling 25-24 sudden-death victory over Berry on Saturday, February 25 in Rome, Georgia.
ROME, Georgia - Freshman Allie Roehrenbeck's (Columbus Academy, Gahanna, Ohio) unassisted goal with 2:48 left in the third overtime allowed Augustana to defeat Berry 25-24 on Saturday, February 25 in Rome, Georgia. Freshman Hilary Kargl (Sacred Heart Academy, Louisville, Kent.) tied an NCAA (all-divisions) record with 14 goals in the match.
The sudden-death victory gave head coach Sara Tisdale's squad a 3-1 record on its spring trip with one match left to play.
Roehenbeck's goal, her third of the game, ended the match after the two teams had been deadlocked at 22-22 after regulation play. The Vikings took a 23-22 lead after the first overtime on an unassisted goal by freshman Kelly Stelzer (Wheaton-Warrenville South HS, Wheaton, Ill.). However, Berry scored a pair of goals in the second overtime while Augustana could only manage a goal by Kargl so the match was even at 24-24 heading into the third overtime, which was sudden death.
With the Vikings leading 23-22 after the first overtime, Berry's Elizabeth Flatt tied things at 23-23 by scoring with just 1:21 left in the second extra session off an assist by Rachel Aiken. Kargl put Augustana on top 24-23 with a free position shot with just :37 to play and it looked liked the Vikings might escape in two overtimes. A penalty on the Vikings gave Berry an extra-player advantage and Kristan Dziurzynski took advantage with a free position goal with only 12 seconds left on the clock. That set the stage for Roehrenbeck's game winner.
Berry jumped out to early leads of 4-1 and 6-2 with Dziurzynski assisting on three goals in game's first 15 minutes. Jenny Miller's third goal of the game, with Dziurzynski getting the assist, at 14:20 of the first half, made it 6-2. That is when the Vikings came to life and Kargl was the spark. She scored four goals over the next four minutes and her tally at 10:13 on a power play gave Augustana its first lead of the day at 8-7.
The first half would end with the Vikings ahead 12-11.
In the second half Berry outscored Augustana 7-2 over the first 12 minutes and when Dziurzynski scored an unassisted goal at 18:01, the home team led 18-14. The Vikings scored three straight goals (Stelzer, Kargl and Roehrenbeck) to cut the advantage to 18-17 with 14:50 left to play.
With 6:37 to go, Dziurzynski, who would end up with nine goals, scored on a power-play to give Berry a two-goal cushion (21-19). Freshman Christina Letmanski (Glenbard West HS, Wheaton, Ill.) scored at 6:26 and then Kargl tallied twice, at 1:50 and 1:08, to give the Vikings a 22-21 lead. Berry's Dziurzynski scored on a free position goal with just :43 left in regulation to force the overtime.
Kargl led the Augustana attack with 14 goals while Stelzer and Roehrenbeck each tallied three goals. Kargl's 14 goals tied the NCAA (all-division) record that was originally set by Ann Clark of Worcester State on April 24, 2004 against Lasell. Freshman Gina Filippo (Libertyville HS, Libertyville, Ill.) and Letmanski both had three assists.
The shots were fairly even with Berry holding a slight 45-43 edge in that department but the Vikings gained a 35-27 lead in ground balls. Augustana goalkeeper Sarah Osier (Naperville Central HS, Naperville, Ill.) came up with 14 saves.
The Vikings will finish their spring break trip with a match on February 27 at 5:00 p.m. against Centre College in Danville, Kentucky.