February 24, 2012
2011-12 Season - Vikings fall in CCIW Tournament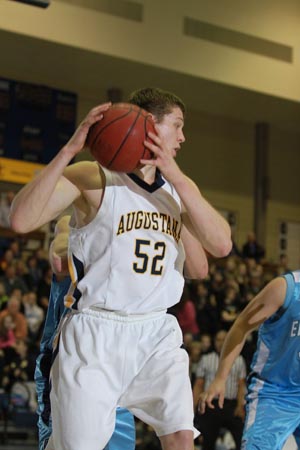 Junior Brandon Kunz led Augustana in rebounding with 11 during the Vikings 63-56 loss at North Central in the semi-final of the 2012 CCIW Tournament on Friday, February 24. He also scored nine points.
NAPERVILLE, Ill. - North Central, the number one seed in the 2012 College Conference of Illinois & Wisconsin men's basketball tournament, eliminated Augustana on Friday, February 24 with a 63-56 victory in Naperville, Illinois. The Cardinals broke away from a 30-30 tie at halftime and shot it just well enough in the second half of another defensive struggle between the two clubs.
It was the third victory for North Central over Augustana this season and each one has been a defensive lover's dream and not for the faint of heart on offense. This one was no different as the Cardinals shot .386 (22-57) from the floor while the Vikings hit just under that at .364 (20-55).
The key portion of the game may have come just before halftime when Augustana broke away from a 23-23 deadlock with 2:41 left. Two free throws from Griffin Dwyer (Hersey HS, Arlington Heights, Ill.), a three point field goal by Brian DeSimone (Buffalo Grove HS, Wheeling, Ill.) and a basket by Troy Rorer (Bettendorf HS, Bettendorf, Iowa) gave the Vikings a seven point cushion (30-23) with just 1:38 to play.
North Central answered with a 7-0 run of its own, punctuated with a basket by Landon Gamble just before the buzzer sounded to tie the game 30-30 at intermission.
In the second half the game stayed close and with 3:22 left it was tied for the ninth (and final time) at 55-55 after Bryant Voiles (Byron HS, Byron, Ill.) scored on a layup. North Central would close out the game on an 8-1 run to secure the victory.
Voiles and DeSimone led Augustana in scoring with 11 points each while Brandon Kunz (Lake Zurich HS, Lake Zurich, Ill.) had nine points and led all rebounders with 11. DeSimone had four assists and Voiles three.
Unlike the last meeting between the two clubs, a 43-41 North Central victory on February 4, Augustana did not enjoy a huge advantage in the rebounding department. The Vikings did hold a 38-35 edge but that was much closer than the last time the two met.
Derek Raridon led North Central in scoring with 18 points while Landon Gamble had 15 and Aaron Tiknis dropped in 10.
Augustana is now 19-7, the same record as North Central, which will play Wheaton in the CCIW Championship game on Saturday, February 25 in Naperville.