February 24, 2012
2012 Season - Benning, Pollastrini second at CCIW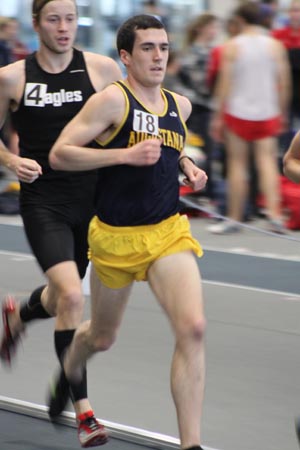 Junior Brian Pollastrini placed second in the 5000 in the College Conference of Illinois & Wisconsin indoor track & field championship on Friday, February 24 in Naperville, Illinois with a time of 14:47.17.
NAPERVILLE, Ill. - Senior Brian Benning (Winnebago HS, Winnebago, Ill.) and junior Brian Pollastrini (York HS, Elmhurst, Ill.) each recorded second place finishes to pace Augustana after the first day of competition in the 2012 College Conference of Illinois & Wisconsin Indoor Track & Field Championship. The Vikings are in second place with 44.5 points in the meet, which is being held at North Central in Naperville, Illinois.
Benning finished second in the 35 pound weight throw with a toss of 60' 2 ½", just off his school record of 60' 3 ¾" set last weekend. He was defeated by Greg Raimondi of Carthage, who uncorked a throw of 60' 4 ½". Senior Adam Myers (Dixon HS, Dixon, Ill.) placed sixth with a mark of 55' 7 ¾".
Pollastrini ran a superb race in the 5000, recording a time of 14:47.17, losing only to the winning time of 14:43.52 by Dan Kerley of North Central. Senior Mike Tisza (Hersey HS, Prospect Heights, Ill.) finished fifth in 15:03.55.
Freshman Jeff Padesky (Moline HS, Moline, Ill.) was fourth in the pole vault with a clearance of 14' 7 ¼" with Colton VanKirk (Rochelle HS, Rochelle, Ill.) taking sixth, also with a height of 14' 7 ¼". Sophomore Will Lardner (Mundelein HS, Mundelein, Ill.) was seventh at 13' 1 ½" and senior Brian Bernatowicz (Downers Grove North HS, Downers Grove, Ill.) took eighth at 13' 1 ½".
Junior Mike Tovar (Mooseheart HS, Chicago, Ill.) was fourth in the long jump with a leap of 22' 3" and junior Jacob O'Rourke (Davenport Assumption HS, Bettendorf, Iowa) placed eighth at 21' 6 ¾".
The distance medley team was fourth in 10:41.93.
North Central leads the team standings after five events with 79 points while the Vikings are second with 44.5. Carthage is third with 38 and Illinois Wesleyan is fourth with 20.5. Wheaton (6), Elmhurst (4), Millikin (2) and North Park (1) round out the field.