February 24, 2012
2011-12 Season - Rain wipes out LaGrange match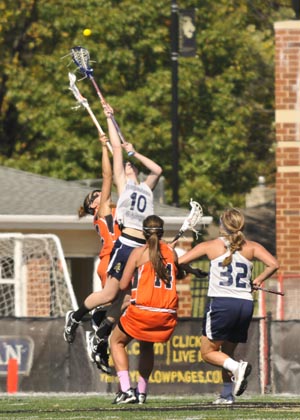 Augustana suffered its first weather cancellation in the history of women's lacrosse when the match with LaGrange College was wiped out due to heavy rains in the Atlanta area.
LAGRANGE, Georgia - In a season full of firsts for the 2012 Augustana women's lacrosse team, Mother Nature has added another. For the first time in the short history of the Augustana program, the Vikings have lost a match due to weather.
This afternoon's match against Augustana and LaGrange College in LaGrange, Georgia, has been cancelled due to heavy rains in the Atlanta area. There is no plan to make up the match as head coach Sara Tisdale's team is on its spring break and is scheduled to play Berry College in Atlanta, Georgia on Saturday, February 25. The last match for the Vikings on the trip will be February 27 against Centre College in Danville, Kentucky.
Augustana is currently 2-1 on the season, losing to the University of the South 17-16 on Saturday, February 18 in the first ever women's lacrosse game. The Blue & Gold defeated Birmingham Southern 20-9 on February 21 and then bounced Agnes Scott 19-5 on February 22.
The first home match for the Vikings is scheduled for Saturday, March 10 at 11:00 a.m. against Fontbonne at Thorson-Lucken Field.