Cleveland looks at Portugal, colonialism and sports
February  24, 2012
Dr. Todd Cleveland, assistant professor of history, is catching the attention of media in Portugal who are interested in his research on Arican athletes and colonialism.
The blog "Reflecting on Mozambique" posted an interview with Dr. Cleveland lastweek: Norte-americano estuda dilemas de futebolistas africanos ao serviço de Portugal. The post is based on an interview Dr. Cleveland gave to Agência Lusa, a large media company in Portugal. He also will be interviewed by Voice of America-Portugal next week.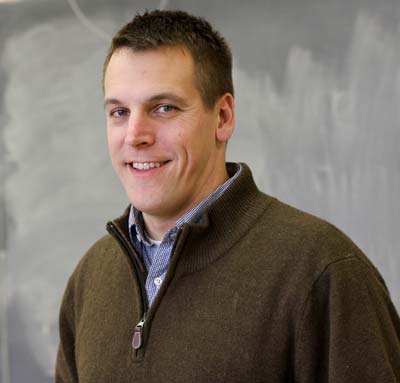 Todd Cleveland
Following is a translation of the blog post:
North American studies dilemmas of African footballers
in the service of Portugal
The life and dilemmas of African footballers in Portugal during the colonial period are the themes of the research of Todd Cleveland, an American professor from Illinois, passionate about Lusophone Africa and a fervent supporter of Benfica (a Portuguese soccer club).
The professor, a member of the history department at Augustana College in Rock Island, Illinois, graduated with a Ph.D. in African History from the University of Minnesota, but it was during his M.A. program at the University of New Hampshire when he first developed his interest in the Portuguese colonial past.
Cleveland divides his time between classes in African history at Augustana and research projects that have led him to live for periods in Angola and Portugal.
After a project on the exploitation of diamonds in Luanda Norte, Angola, which is currently awaiting publication, the professor is now studying African soccer players who, during the Portuguese colonial period, played for Portuguese clubs and for the colonial power's national team, but also those who chose to stay in their countries of origin.
In a recent interview with Agência Lusa, Cleveland explained that his objective is to understand why football players such as Eusébio, Mário Wilson and Hilário wore the jersey of the "team of the Quinas" (the Portuguese national team), while in their homelands the fight for independence (from the Portuguese) was being waged.
"I am interested to determine how and, ultimately, why these players donned the Portuguese national jerseys while their lands were the sites of fierce counterinsurgency campaigns," said Cleveland.
The researcher wants to understand the internal conflicts of these men and to what extent this inner tension may have shaped their actions, as well as how they were perceived by Africans and Portuguese during this intensely political period.
The curiosity of the researcher also extends to the daily experiences of the players as members of an African minority in Portugal and the strategies they adopted to achieve their success.
"Many of the players I interviewed were surprised that I was more interested in their day-to-day lives than in their work on the pitch. Many had not spoken about this for a long time and were very pleased to share those experiences with me," said Cleveland, who has spent two summers in Portugal interviewing former players.
Recalling that the research is still at an early stage, the American professor has already concluded that many of these players used their athletic skills in order to study at Coimbra University or to ensure future employment at companies such as the Companhia União Fabril (CUF), for example.
"Of course, they were not all as talented as Eusébio, achieving international fame due to their remarkable soccer acumen. In fact, in many ways, the superstar status of some of the players continues to obscure the experiences of the vast majority of these migrants," contends Cleveland.
The researcher challenges the notion, widespread in recent African literature, that casts African players as victims exploited by "neo-colonial or neo-liberal" European soccer clubs.
"When we consider these players' perspectives and objectives and actually listen to what they have to say, they certainly don't appear to have been 'exploited victims,' but rather complex, savvy and strategic historical actors," he stressed.
The researcher hopes to soon be able to travel to Angola and Mozambique to interview players who opted to stay in their countries. The idea is then to assemble all of this research into a book.