February 23, 2012
2012 Season - Vikings batter Judges 16-2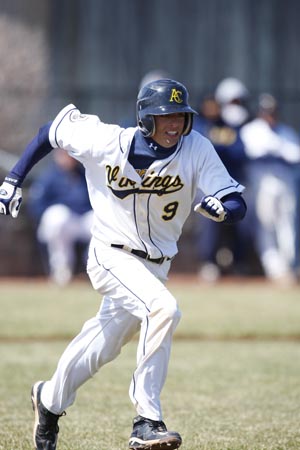 Junior shortstop Kurt Schmidt led the Vikings' offense with three hits (including a double and a triple), four runs scored, three RBI and a stolen base as Augustana defeated Brandeis 16-2 on Thursday, February 23.
WINTER HAVEN, Florida - Augustana scored in every inning and cracked 16 hits en route to a convincing 16-2 victory over Brandeis on Thursday, February 23 in Winter Haven, Florida. The Vikings jumped on Judges' starter Elio Fernandez early, exploding for five runs in the first inning and never looked back en route to moving their early season record to 2-1.
The top two batters in the Augustana order were especially effective as junior shortstop Jeremy Juhl (Glenbard East HS, Lombard, Ill.) and junior second baseman Kurt Schmidt (Grayslake Central HS, Grayslake, Ill.) combined for six hits, six runs and five runs-batted-in.
The Viking onslaught started in the first inning when Juhl led off with a single and Schmidt was hit by a pitch. After junior Mark VanNatta (Rock Island Alleman Catholic HS, Moline, Ill.) sacrificed Juhl to third and Schmidt to second, junior Grant Stewart (Sterling HS, Sterling, Ill.) grounded out to first. Juhl scored the game's first run and Schmidt went to third. Joe Cecchi (Romeoville HS, Romeoville, Ill.) singled Schmidt home and senior Mike Barker (Grandview HS, Centennial, Colo.; now resides in Marina del Rey, Calif.) doubled in Cecchi to make it 3-0. A single by senior rightfielder Kevin Serna (Rolling Meadows HS, Arlington Heights, Ill.) drove in Barker. Serna then stole second, junior catcher Jim Sandberg (J.K. Mullen HS, Littleton, Colo.) walked and senior left fielder Anthony Concialdi (Fremd HS, Barrington, Ill.) was hit by a pitch to load the bases. Serna then stole home with Sandberg going to third and Concialdi to second before Juhl's ground out ended the inning.
Brandeis' Sean O'Hare homered to lead off the first against Augustana starter Brian Konecke (Lakes Community HS, Itasca, Ill.) to trim the lead to 5-1. The Vikings got that run back in the top of the second when Schmidt singled to lead off, stole second and scored on Stewart's double.
The Vikings put four runs on the board in the top of the third to put the game out of reach. Serna singled and stole second and scored on a one-out single by Concialdi. Juhl singled Concialdi to third and a wild pitch moved Juhl to second. Both players scored on Schmidt's double and that was it for Fernandez. A single by Stewart off reliever Dylan Britton drove in Schmidt for the fourth run of the inning to make it 10-1.
Augustana scored single runs in the third and fourth and then put three on the board in the top of the sixth. In that frame, Sandberg led off with a double and after two were out, Schmidt tripled him home. Pinch hitter Jacob VanDuyne (Wilmington HS, Wilmington, Ill.) singled to drive in Schmidt. VanDuyne moved to second on a balk and walks to Stewart and pinch hitter Kyle Lenihan (Romeoville HS, Romeoville, Ill.) loaded the bases. VanDuyne scored the third run of the inning when Barker drew a walk.
The Vikings added one more run in the top of the seventh. Brandeis' other run came when Chris Ferro homered off Konecke in the bottom of the sixth. Konecke worked six innings and allowed just five hits while striking out five and walking just one as he collected the win. Junior Rick Erickson (Lake Zurich HS, Hawthorn Woods, Ill.) struck out all three batters he faced in the bottom of the seventh.
Augustana's next game will be February 25 against Franklin at Lake Myrtle Park in Winter Haven, Florida at 5:00 p.m.