February 23, 2012
2011-12 Season - Natalie Runge second team All-CCIW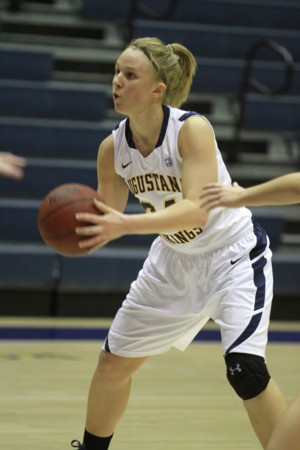 Augustana senior forward Natalie Runge has been named to this year's All-CCIW second team.
NAPERVILLE, Ill. - Augustana senior forward Natalie Runge (St. Dominic HS, O'Fallon, Mo.) has been named to the second team of this year's College Conference of Illinois & Wisconsin all-conference team. The Vikings' leading scorer and rebounder was Augustana's only representative on the three-team squad.
The 5' 10" Runge averaged 12.6 points and 5.0 rebounds per game this year. She shot .466 from the field and .806 from the free throw line and added 26 assists, 17 steals and a team-best three blocked shots. In conference play, she was the league's fourth-leading scorer at 14.5 points per game and finished sixth in the CCIW in both field goal (.471) and free throw (.795) percentage.
Runge finished her career ninth on Augustana's all-time scoring list with 965 points. With a career scoring average of 10.8 points per game, she almost certainly would have eclipsed the 1000-point mark had she not missed 10 games of her junior season due to a knee injury. She finished just outside Augustana's top ten in career field goal percentage (.470) and rebounds (491) and her free throw percentage of .806 this season is fifth best in school history.
The 2012 All-CCIW first team was made up of Illinois Wesleyan's Olivia Lett, who won the conference's Most Outstanding Player award, Meghan Merklein of Elmhurst, Wheaton's Lindsey Brennema, Crystal Ziegler of Millikin and Diana Jacklin of Carthage.
Joining Runge on the second unit were Cailee Corcoran of Carthage, Illinois Wesleyan's Melissa Gardner, Cecily Aldridge of Millikin and Wheaton's Laura Karsten. Mia Smith of regular season champion Illinois Wesleyan was named 2012 CCIW Coach of the Year.
2012 CCIW ALL-CONFERENCE
| | | | | |
| --- | --- | --- | --- | --- |
| FIRST TEAM | School | Pos. | Yr. | Hometown/H.S. |
| Olivia Lett* | Illinois Wesleyan | G | Sr. | Pana, Ill./H.S. |
| Meghan Merklein* | Elmhurst | G/F | Sr. | Plainfield, Ill./Central |
| Lindsey Brenneman* | Wheaton | G | Sr. | Overland Park, Kan./Blue Valley Northwest |
| Crystal Zeigler* | Millikin | F | Sr. | Decatur, Ill./St. Teresa |
| Diana Jacklin* | Carthage | C | Sr. | Berwyn, Ill./Morton West |
| SECOND TEAM | School | Pos. | Yr. | Hometown/H.S. |
| Natalie Runge | AUGUSTANA | F | Sr. | O'Fallon, Mo./St. Dominic |
| Cailee Corcoran | Carthage | F | Jr. | Oak Lawn, Ill./Marist |
| Melissa Gardner | Illinois Wesleyan | G | Jr. | Chebanse, Ill./Clifton Central |
| Cecily Aldridge | Millikin | F | Sr. | Taylorville, Ill./H.S. |
| Laura Karsten | Wheaton | G | Jr. | Grand Haven, Mich./Western Michigan Christian |
| THIRD TEAM | School | Pos. | Yr. | Hometown/H.S. |
| Tess Godhardt | Elmhurst | G/F | Fr. | Hinckley, Ill./Hinckley-Big Rock |
| Brittany Hasselbring | Illinois Wesleyan | G | Sr. | Watseka, Ill./Bishop McNamara |
| Beth Wellbaum | Millikin | G | Sr. | Rochester, Ill./H.S. |
| Roxxanne Jones | North Park | F | Sr. | Chicago, Ill./Maria |
| Brooke Olson | Wheaton | G | Jr. | Winfield, Ill./Wheaton North |