Augustana Summer Academy offers new grants
February  23, 2012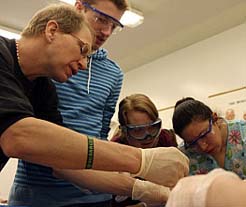 Dr. Darrin Good teaches in the cadaver lab.
From June 17–22, high school students can experience a taste of college life at Augustana Summer Academy. The enrichment program, now in its third year, offers an adventurous academic opportunity through courses taught by one or more professors in a close-knit, hands-on environment.
Courses range from one to five days and students live in college housing. Outside of class, they'll have field trips, evening activities and ventures off campus
Starting this year, thanks to funding from the Rock Island Community Foundation, high school students from Rock Island with financial need who want to attend may apply for grant funds to offset the expense of enrolling. A total of $1,200 in grant funds will be awarded on a first-come, first-served basis.
Augustana College will use the funds provided by the foundation to reduce the cost of attendance for approximately 10 high school students from Rock Island. Summer Academy organizers want to encourage students from Rock Island to strive towards active learning and encourage them to further their education.
Dr. Darrin Good, a professor in Augustana's biology department and a Summer Academy instructor, said, "The funds will assist needy students from Rock Island — no matter what high school they attend — with up to 80 percent of the registration costs."
With costs from $150 to $750 per program, the topics offered at this year's Summer Academy range from "The Amazing Brain: Experience Neuroscience at Augustana" to a Harry Potter immersion course titled "A Return to Hogwarts," and from an engineering physics course to a poetry workshop. Among the 16 different programs offered, there are three courses that take advantage of the human cadaver lab at Augustana and courses in the fine arts.
Courses range from one to five days, with no grades or tests. The classes encourage hands-on learning. Dr. Good added, "These programs give high school students the chance to experience life on a college campus, to learn from professors and to engage in advanced academic experiences."
High school students who attend at least one Summer Academy course at Augustana and then apply and are accepted to study as an undergraduate will receive a $500 scholarship for each year enrolled at Augustana (up to $2,000). Last year, 125 high school students experienced a college class, life in a residence hall and more by participating in the Summer Academy.
Details and information are available at augustana.edu/summeracademy. Registration is open until midnight on Friday, May 18.
Sam Schlouch
Senior Communication Director
(309) 794-7833
samschlouch@augustana.edu