February 22, 2012
2011-12 Season - Vikings win first ever men's lacrosse game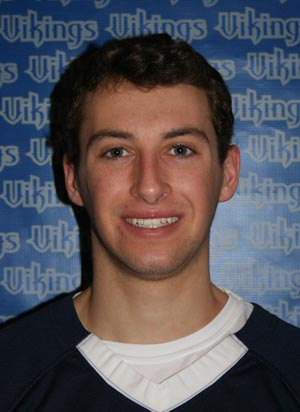 Freshman Vincent Giglierano scored the first goal in the history of men's lacrosse at Augustana. He tallied just 1:13 into the Vikings 17-3 win at Millsaps on Wednesday, Feburary 22.
JACKSON, Miss.-Augustana played its first ever men's lacrosse match Wednesday, February 22 and coach Kyle Hart's Vikings came away a 17-3 winner over Millsaps. Freshman midfielder Vincent Giglierano (Archbishop Mitty HS, San Jose, Cal.) scored the first goal in program history less than a minute and a half into the contest and Augustana went on to claim the victory.
Giglierano was involved in nearly all of the scoring early for the Vikings. After the Majors scored at 9:43 of the first quarter to cut Augustana's lead to 2-1, he scored for the second time to give the Vikings a 3-1 lead after one period. He assisted on the visitors' first two goals of the second period and found the net himself for the third time with Augustana down a man at the 5:16 mark of the second quarter.
The Vikings led 6-2 at that point and freshman attacker Jesse Nagelberg (St. Charles East HS, St. Charles, Ill.) added three straight goals in the final 4:04 of the half for a 9-2 Augustana lead at intermission.
Freshman midfielder J.G. Saunders (The Calverton School, Aquasco, Md.) opened the second half scoring with his second goal of the match at 13:24 of the third. Nagelberg got his fifth goal-which came on Giglierano's third assist of the contest-at 8:43 and then assisted on another Saunders tally at 6:35 to put the Vikings up 12-2. Nagelberg added his sixth and final goal at 1:36 of the third period, which ended with Augustana up 14-3.
Fourth period goals by Saunders and fellow freshmen Tim Fennelly (Centennial HS, Littleton, Colo.) and Doug Barrie (Lake Forest HS, Lake Forest, Ill.) accounted for the final score.
Freshmen Cody Burgdorff (Peak to Peak HS, Lafayette, Colo.) and Jon Pape (Hoffman Estates HS, Hoffman Estates, Ill.) split time in goal for the Vikings. Burgdorff played the first three quarters and recorded five saves to pick up the win. Pape didn't face a shot on goal while playing the final period.
In addition to Nagelberg's six goals, Augustana got four from Saunders, three from Giglierano and a pair from Fennelly. Giglierano had three of the Vikings' eight assists.
Augustana outshot the Majors by a 46-18 margin and collected 35 ground balls to Millsaps' 30. The Vikings committed just nine turnovers while the Majors had 22.
Hart's crew will try to stay undefeated when they take on Huntingdon in Montgomery, Alabama on Saturday, February 25 at 1:00 p.m.