February 22, 2012
2012 Season - Split with Brandeis opens season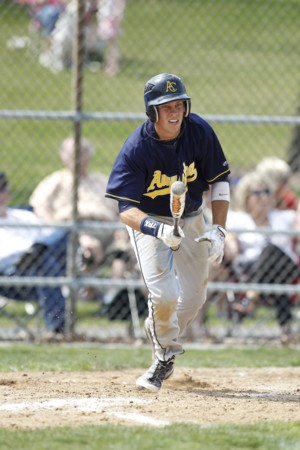 Senior outfielder Kevin Serna went 5-for-6 Wednesday as Augustana opened the 2012 baseball season with a doubleheader split with Brandeis. The Vikings won the opener 12-0 and dropped the nightcap 3-1.
AUBURNDALE, Fla.-Augustana's Mike Trotta (Notre Dame HS, Chicago, Ill.) fired a complete game shutout and fellow senior Kevin Serna (Rolling Meadows HS, Arlington Heights, Ill.) went 5-for-6 on the day as the Vikings opened the 2012 baseball season by splitting a doubleheader with Brandeis Wednesday. Augustana rolled 12-0 in the opener before dropping the nightcap by a score of 3-1.
Game One-Augustana 12, Brandeis 0
The Vikings put game one away early. After Trotta struck out the last two batters to strand a pair of Judges in the top of the first, juniors Jeremy Juhl (Glenbard East HS, Lombard, Ill.) and Kurt Schmidt (Grayslake Central HS, Grayslake, Ill.) started things with back-to-back singles in the bottom of the inning. Junior first baseman Grant Stewart (Sterling HS, Sterling, Ill.) was hit by a pitch to load the bases. Augustana then got an RBI fielder's choice by junior Joe Cecchi (Romeoville HS, Romeoville, Ill.), an RBI single from freshman Nicholas Tenerelli (Downers Grove South HS, Downers Grove, Ill.) and a two-run double from Serna to take a 4-0 lead. Serna was thrown out at third trying to stretch it to a triple, ending the inning.
The Vikings added three more in the second. Juhl scored junior catcher Jim Sandberg (JK Mullen HS, Littleton, Colo.) with an RBI single and came around to score himself on a two-run single by Cecchi.
Another Serna double and an RBI single by Sandberg in the third extended the lead to 8-0 and the Vikings added a run in the fourth and three more in the fifth to account for the final.
Meanwhile, Trotta breezed through seven innings, allowing just four singles and a walk while fanning four to move to 1-0 on the year. Judges' starter Mike Swerdloff, who gave up seven runs in two innings, took the loss.
Cecchi drove in four runs in the game. Juhl and Schmidt each went 2-for-3 with three runs scored and Serna was 3-for-3 with two runs scored and a pair driven in.
Game Two-Brandeis 3, Augustana 1
Brandeis starter Kyle Brenner scattered nine hits in a seven-inning complete game in the nightcap.
Serna doubled to lead off the top of the second and scored on Sandberg's RBI single to give Augustana a 1-0 lead. The Judges answered with a run off Viking starter Ben Heaton (Bloomington Central Catholic HS, Heyworth, Ill.) in the bottom of the inning and tallied once in each of the next two innings as well.
Heaton took the loss, allowing three runs, two of which were earned, in 3 1/3 innings. He gave up five hits and one walk, fanning three Judges. Senior Josiah Martin (Canton HS, Canton, Ill.) threw 2 2/3 scoreless innings in relief. Serna and senior Mike Barker (Grandview, Colo. Centennial HS, Marina del Rey, Cal.) each went 2-for-3 at the plate.
Augustana takes on Brandeis again on Thursday, February 23 in a single contest scheduled for noon.