February 22, 2012
2011-12 Season - Quick start fuels Vikings over Scotties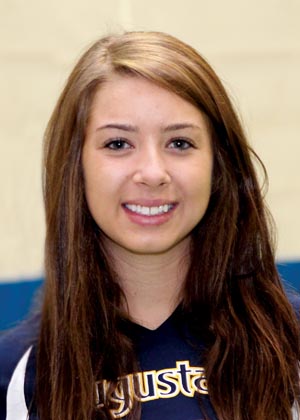 Freshman Christina Letmanski scored three goals during the Vikings 19-5 victory over Agnes Scott on Wednesday, February 22 in Atlanta, Georgia.
ATLANTA, Ga. - Scoring the first six goals of the game allowed Augustana to take control early and the result was a convincing 19-5 victory over Agnes Scott in women's lacrosse action on Wednesday, February 22 in Atlanta, Georgia. The Vikings jumped out to leads of 6-0 and 12-1 en route to a 12- halftime advantage.
Freshman Hilary Kargl (Sacred Heart Academy, Louisville, Kent.) continued her torrid scoring pace as she accumulated seven goals against the Scotties. She scored three of her team's first four goals. Her first one came just 28:16 into the game. Freshman Kelly Stelzer (Wheaton-Warrenville South HS, Wheaton, Ill.) scored six seconds later, at 28:10, to make it 2-0 and then Kargl scored at 27:17 and 21:58, the latter came from a Hannah Dickman (Stillwater HS, Stillwater, Minn.) assist.
That put the Vikings up 4-0 but Dickman quickly made it 5-0 at 19:06 and freshman Emily Pavlik (Lyons Township HS, LaGrange, Ill.) scored at 17:26 to up the ante to 6-0.
Alicia Logan got Agnes Scott on the board with a goal at 16:26 but Augustana scored the next six goals to make it 12-1. Freshman Christina Letmanski (Glenbard West HS, Wheaton, Ill.) had two in the run while Dickman, Stelzer, freshman Gina Filippo (Libertyville HS, Libertyville, Ill.) and freshman Allie Roehrenbeck (Columbus Academy, Gahanna, Ohio) each had one.
Logan got another goal for the Scotties to make it 12-2 at intermission.
In the second half Kargl kick started the Vikings again with a goal at 26:06 off an assist by Roehrenbeck. A goal by Sumayyah Cooper of Agnes Scott made it 13-3 with 23:48 left in the game but Augustana scored the next three goals with Letmanski, Kargl and Roehrenbeck connecting to make it 16-3.
Kargl would score two more times and freshman Kate Zisser (Kirkwood HS, St. Louis, Mo.) got the final Viking goal with 7:42 left in the game to make it 19-5.
Kargl had seven goals and an assist while Letmanski scored three times and Dickman, Roehrenbeck and Stelzer each tallied two goals.
Logan led Agnes Scott in scoring with four goals.
Augustana, now 2-1 on the season, held a huge 34-12 advantage in shots over the Scotties, who were playing their first game. The Vikings will play LaGrange College in Atlanta, Georgia on February 24 at 4:00 p.m.