February 22, 2012
2011-12 Season - Rorer and Voiles 2nd team All-CCIW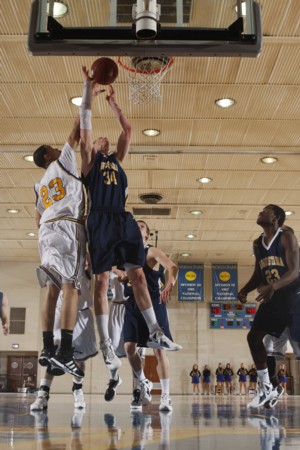 Augustana seniors Bryant Voiles (34) and Troy Rorer (23) have been named to the 2012 All-CCIW second team.
ROCK ISLAND, Ill.-The College Conference of Illinois & Wisconsin has announced its 2012 all-conference team and Augustana seniors Troy Rorer (Bettendorf HS, Bettendorf, Iowa) and Bryant Voiles (Byron HS, Byron, Ill.) have been named to the second team. Voiles earned second team honors for the second consecutive year.
The versatile Rorer, the Vikings' best perimeter defender, ranks second on the team in scoring (11.4 ppg), assists (64) and steals (25) as the team heads into CCIW tournament play this weekend. He also snares 4.1 rebounds per game and connects at a .344 rate from three-point range. He was the CCIW's ninth-leading scorer this season, averaging 12.0 points per game in league play. He ranks in Augustana's top 50 all-time in rebounding, assists, blocked shots, steals, three-point field goals and made free throws.
Voiles is the leading scorer and rebounder for the 19-6 Vikings this season, averaging 14.3 points and 7.3 rebounds per game. In addition, he's the team's leading free throw shooter at .825 and is tied for the team lead with 35 three-pointers. In league games, he was second in the conference in rebounding and was also the CCIW's sixth-best free throw shooter. He currently ranks on Augustana's career lists in several categories including 36th in scoring (870 points) and 26th in rebounding (456), as well as 10th in blocked shots (47) and three-pointers (111), 16th in three-point percentage (.387) and 17th in made free throws (233).
The 2012 All-CCIW first team was made up of "Fred Young Most Outstanding Player" Tim McCrary of Wheaton, Jordan Zimmer of Illinois Wesleyan, Landon Gamble and Derek Raridon of league champion North Central and league scoring champ Malcom Kelly of Carthage. Joining Rorer and Voiles on the second team were North Central's Aaron Tiknis, Elmhurst's Zack Boyd and Aaron Garriott of Wheaton. North Central's Todd Raridon was named Coach of the Year.
2012 All-CCIW
| | | | | |
| --- | --- | --- | --- | --- |
| FIRST TEAM | School | Pos. | Yr. | Hometown/H.S. |
| Jordan Zimmer* | Illinois Wesleyan | G | Sr. | Delavan, Ill./H.S. |
| Tim McCrary* | Wheaton | F | Sr. | Wilmette, Ill./New Trier |
| Landon Gamble | North Central | F | So. | Joliet, Ill./Lockport Township |
| Derek Raridon | North Central | G/F | Jr. | Plainfield, Ill./Neuqua Valley |
| Malcom Kelly | Carthage | G | Jr. | Kenosha, Wis./Reuther |
| | | | | |
| SECOND TEAM | School | Pos. | Yr. | Hometown/H.S. |
| Troy Rorer | Augustana | G | Sr. | Bettendorf, Iowa/H.S. |
| Bryant Voiles | Augustana | F | Sr. | Byron, Ill./H.S. |
| Aaron Tiknis | North Central | F | Jr. | Chicago, Ill./Grand River Academy |
| Zack Boyd | Elmhurst | G | Sr. | Warrensburg, Ill./Warrensburg-Latham |
| Aaron Garriott | Wheaton | G | Sr. | Bloomington, Ill./Central Catholic |
| | | | | |
| THIRD TEAM | School | Pos. | Yr. | Hometown/H.S. |
| Mark Holmes | North Park | F | Jr. | Elk Grove Village, Ill./Guerin Prep |
| Eliud Gonzalez | Illinois Wesleyan | G | Sr. | Oak Lawn, Ill./Richards |
| Spencer Schultze | Wheaton | F | Sr. | Grand Rapids, Mich./Christian |
| Victor Davis | Illinois Wesleyan | F | So. | Galesburg, Ill./H.S. |
| C.J. Goldthree | North Central | G | So. | Fairview Heights, Ill./Belleville East |