February 21, 2012
2011-12 Season - Runge scores 26 in final game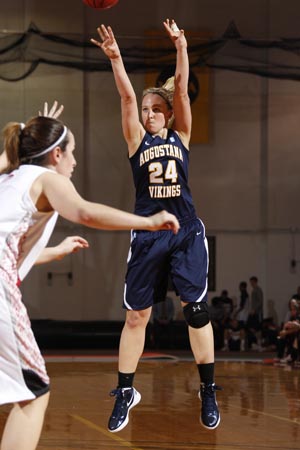 Natalie Runge scored 26 points and pulled down four rebounds in her final game as a Viking but it was not enough as Augustana fell to Wheaton 80-63 in the season finale.
WHEATON, Ill. - Despite a game-high 26 points from senior Natalie Runge (St. Dominick's HS, O'Fallon, Mo.), Augustana dropped its season finale by a score of 80-63 at Wheaton on Tuesday, February 21 in King Arena. With the loss the Vikings end their season with an 11-14 overall record and a 3-11 mark in the College Conference of Illinois & Wisconsin.
Runge was the lone Augustana player in double figures as she made good on 11 of 16 shots from the field and four of seven from the free throw line. She added four rebounds and had two blocked shots in 32 minutes of play.
The Vikings jumped out to an early 5-0 lead on a two point basket by Runge and a three point field goal by junior Gianna Pecora (Downers Grove South HS, Darien, Ill.). Wheaton then went on a 15-4 run to take a 15-9 lead with 13:33 left in the half.
A basket by Runge with 7:22 left in the first stanza had the lead down to four points (23-19) but the Thunder closed out the half on a 14-7 run to take a 37-26 advantage into the locker room.
Wheaton outscored the Vikings 17-4 over the first five minutes of the second half and with 15:40 left in the game the Thunder led 54-30. Augustana managed to cut the margin to 16 points (55-39) with 12:50 left on a three point field goal by Abbi Staples (Sterling HS, Sterling, Ill.). The Thunder scored the next nine points to put the game out of reach.
Wheaton had four players in double figures with Lindsey Brenneman leading the way with 17 points. Laura Karsten had 15 while Brooke Olson and Breanna Bohlen each had 10.
Augustana outrebounded the Thunder 37-35 with senior Kristina Howard (Cherokee Trail HS, Aurora, Colo.) leading the way with eight. Chaney Tambling (Dwight HS, Dwight, Ill.) and Molly Etheridge (Normal Community HS, Bloomington, Ill.) each had three assists.