February 21, 2012
2011-12 Season - Balanced scoring leads to first ever victory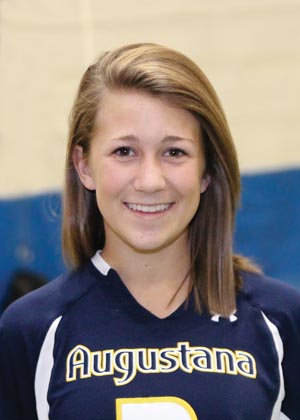 Freshman Hilary Kargl scored four goals as Augustana picked up its first ever victory in women's lacrosse by defeating Birmingham Southern 20-9 on Tuesday, February 21. Kargl has now scored 12 goals in her first two games as a Viking.
BIRMINGHAM, Ala. - With three players scoring at least four goals, Augustana picked up its first ever victory in women's lacrosse by defeating Birmingham Southern 20-9 on Tuesday, February 21. The Vikings jumped out to an early 3-0 lead and were never headed.
After putting forth a solid effort in the fledgling program's first ever match on Saturday, February 18 (a 17-16 loss at The University of the South), head coach Sara Tisdale's crew was solid from the opening whistle. Freshman Hilary Kargl (Sacred Heart Academy, Louisville, Kent.) got the Vikings on the board early with an unassisted goal less than five minutes into the action.
Kargl would finish the game with four goals as would freshman Allie Roehrenbeck (Columbus Academy, Gahanna, Ohio) while freshman Hannah Dickman (Stillwater HS, Stillwater, Minn.) led the way with five. That gave the Vikings a total of 13 goals among three players.
Goals by Roehrenbeck at 22:58 and freshman Christina Letmanski (Glenbard West HS, Wheaton, Ill.) at 20:40 made it 3-0 before Birmingham Southern got on the board with a goal by Rebecca Klementz at 18:58. Dickman (18:40), Roehrenbeck (15:25), Dickman again (13:54), Roehrenbeck again (13:19), Letmanski (8:42) and freshman Kelly Stelzer (Wheaton-Warrenville South HS, Wheaton, Ill.) at 6:00 made it 9-1.
The Panthers scored three goals in less than a minute from 5:50 to 4:53 to trim the advantage to 9-4 but the Vikings closed out the first half with a pair of scores to make it 11-4 at intermission. Senior Maribeth Shea (Willows Academy, Chicago, Ill.) tallied at 2:21 and Dickman scored with just :54 left.
In the second half Kargl scored at 27:49 to make it 12-4 but Birmingham Southern scored four of the game's next five goals and with 15:50 to play the lead was down to 13-8.
The Vikings took complete control of the contest in the final 15 minutes, however, scoring eight of the last nine goals. Roehrenbeck scored unassisted at 15:35, just 15 seconds after Logan Harris' goal brought the Panthers to within five. After Roehrenbeck made it 14-8, Kargl scored off an assist by Kelly Stelzer to make it 15-8 at 14:30. Stelzer's goal at 12:36 pushed the advantage up to 16-8 and Kargl hit the back of the nets off a feed from Letmanski at 11:14 to bump the margin up to 17-8 with 11:14 to play.
Alexis Sweda scored for the Panthers to make 17-9 at 10:20 but the Augustana defense did not allow another goal. Meanwhile, freshman Emily Pavlik (Lyons Township HS, LaGrange, Ill.) scored on an assist by Gina Filippo at 5:27 and Dickman and freshman Kate Zisser (Kirkwood HS, St. Louis, Mo.) finished the scoring with goals at 2:36 and :25 respectively.
Letmanski and Stelzer each contributed two goals and Filippo and Letmanski each had a pair of assists.
Freshman goalkeeper Sarah Osier (Naperville Central HS, Naperville, Ill.) recorded 10 saves in picking up the victory. The Vikings outshot the Panthers 33-29 and had the edge in ground balls (33-21) and clears (26-20).
Augustana, now 1-1, will play at Agnes Scott on February 22 in Atlanta, Georgia at 4:00 p.m.