Women's Connection honors students for leadership
February  21, 2012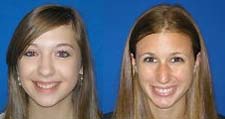 Amber Brackett and Melissa Lehpamer
Amber Brackett and Melissa Lehpamer, both seniors at Augustana College, recently were honored by the Women's Connection through its Emerging Women Leaders program.
Both women were chosen because they exhibit exceptional leadership initiative and high academic achievement. "They have made a difference at the school and in the community," said Dr. Evelyn S. Campbell, dean of student services at Augustana.
Brackett, a senior from Aurora, Ill., is triple majoring in psychology, English, and women's and gender studies. She is involved with residential life as the assistant residence director, Zeta Phi Kappa sorority, Mortar Board Society and the cheerleading squad.
Lehpamer is a senior elementary education major from Plainfield, Ill. Lehpamer is involved with the varsity track and cross country teams and symphonic band. She also serves as the Augustana campus coordinator for Big Brothers Big Sisters.
"Amber and Melissa are exceptional leaders," said Dr. Campbell. "Both of them have taken full advantage of the Augustana educational experience – growing in mind, body and spirit – and along the way, they have also made significant efforts to give back to the community."
The Women's Connection, a non-profit organization made up of approximately 800 female members, launched its Emerging Women Leaders recognition program in 2011. The Women's Connection uses its Women in Leadership Speaker Series as a forum for recognizing regional female collegiate leaders.
Sam Schlouch
Senior Communication Director
(309) 794-7833
samschlouch@augustana.edu