February 20, 2012
2012 Season - Vikings look to continue baseball success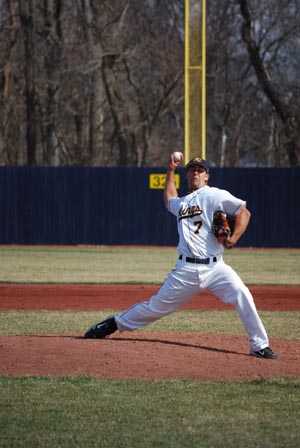 Senior Mike Trotta was the winner of the Vikings' co-Most Outstanding Pitcher award in 2011 when he posted a 6-2 record with a 4.13 earned run average.
Veteran Augustana baseball coach Greg Wallace has the Vikings on solid ground and he is looking forward to continuing the Vikings' success in 2012. Augustana has become an established power in the conference, regional and national scene and Wallace is expecting that trend to continue.
A year ago the Vikings had a great start, winning 10 of their first 11 contests, and a great finish, taking nine of their last 10 games. That translated to a 28-12 overall record and a 12-9 mark in the College Conference of Illinois & Wisconsin. Augustana won 25 games the year before, giving the Vikings 53 wins in the last two seasons.
Wallace is now in his 15th season as the head baseball coach at his alma mater and it has been a tenure punctuated with great success. The Vikings have compiled an overall record of 409-189 (.684) under his tutelage and have gone 169-120 (.585) in the CCIW. Three times they have made it to the NCAA Division III Tournament, most recently in 2008.
"We are looking forward to this season after coming off another successful year in 2011," said Wallace. "Our goal, as it always is, will be to game further national recognition for the program through post-season play."
The Vikings return 16 letter winners from last year with five position players and three pitchers having held starting roles. Two all-conference performers, juniors Jared McIntosh (Davenport Assumption HS, Davenport, Iowa) and Jeremy Juhl (Glenbard East HS, Lombard, Ill.) are among the starters.
"Of course we will have to stay healthy but I think we have a good mix of experienced players and younger talent," said Wallace who won his 400th game at Augustana on April 17 last year when the Vikings defeated Carthage 8-7 to complete a double header sweep. "We will learn a lot about this team over the course of a very tough spring trip and non-conference schedule played through the end of March."
As it usually is in the sport of baseball, focus this spring will be on the pitching staff and Wallace likes what he sees there. McIntosh and senior Mike Trotta (Niles Notre Dame HS, Chicago, Ill.) figure to lead the way. McIntosh was 4-0 a year ago with a 2.68 earned run average in 50 1/3 innings of work. He struck out 29 throughout the season and was a first team all-conference performer. Trotta has been a solid performer throughout his career and was 6-2 last year with a 4.13 ERA in 61 innings with 40 strikeouts. McIntosh and Trotta shared the team's Most Valuable Pitcher award.
Senior Josiah Martin (Canton HS, Canton, Ill.) and junior Ben Heaton (Bloomington Central Catholic HS, Heyworth, Ill.) both saw plenty of action in 2011. Martin led the team in appearances with 19 and posted a 3-1 record with a 2.10 earned run average in 30 innings. Heaton was 4-2 with a 5.66 ERA in 35 innings.
Senior Ryan Thompson (Wheaton North HS, Wheaton, Ill.), junior Rick Erickson (Lake Zurich HS, Hawthorn Woods, Ill.) and sophomores Brian Konecke (Lakes Community HS, Itasca, Ill.) and Rob DiDomenico (Carl Sandburg HS, Orland Park, Ill.) will also get plenty of opportunities for innings. Konecke was the most action of those four as he was 2-1 with a 5.48 ERA in 23 innings in 2011.
Five freshmen, Seth Davis (Mullen HS, Aurora, Colo.), Mike Murphy (Waubonsie Valley HS, Aurora, Ill.), Justin Wightman (St. Charles North HS, South Elgin, Ill.), Kevin Hodgman (Neuqua Valley HS, Naperville, Ill.) and Eric Egan (Oswego East HS, Aurora, Ill.) will get looks, especially early in the season.
The catching position will be a battle between junior Jim Sandberg (J.K. Mullen HS, Littleton, Colo.), sophomore John Crook (Boulder HS, Boulder, Colo.) and freshman Nicholas Tenerelli (Downers Grove South HS, Downers Grove, Ill.). Sandberg has the most experience of the three, having appeared in eight games last spring, three as a starter.
In the infield, juniors Kurt Schmidt (Grayslake Central HS, Grayslake, Ill.), Juhl and Joe Cecchi (Romeoville HS, Romeoville, Ill.) will fill out spots at second, shortstop and third base respectively. All three have been starters during their first two seasons with the Vikings.
Schmidt batted .336 with 43 hits in 128 at-bats last year with nine doubles, four triples, a home run and 20 runs-batted-in. He also led the team in stolen bases with 12. Juhl was a second team all-conference performer after he hit .370 with 50 hits in 135 at-bats with six doubles, one triple, one home run and 17 RBI. Cecchi had the best batting average on the team at .425 with 17 hits in 40 at-bats.
Junior Grant Stewart (Sterling HS, Sterling, Ill.) could be at first base. Freshman Kyle Lenihan (Romeoville HS, Romeoville, Ill.) is versatile enough to provide backup at second, short and third while junior Dave Balzer (Morris HS, Shorewood, Ill.) should see some time after coming back from an injury that kept him out of action a year ago.
In the outfield, McIntosh will play in left when he is not pitching. He batted .283 last year with 32 hits in 113 at-bats while scoring 24 runs with eight doubles, three triples, three home runs and 28 RBI. Seniors Kevin Serna (Rolling Meadows HS, Arlington Heights, Ill.) and Mike Barker (Grandview HS, Centennial, Colo.; now resides in Marina del Rey, Calif.) are back in the outfield as well. Serna hit .267 with 23 hits in 86 at-bats last year while Barker hit .213 with 13 hits in 61 at-bats in 19 games. Senior Anthony Concialdi (Fremd HS, Barrington, Ill.) stared 29 games last year in the outfield and hit .263 with 26 hits in 99 at-bats. Junior Mark VanNatta (Rock Island Alleman Catholic HS, Moline, Ill.) and sophomore Jacob VanDuyne (Wilmington HS, Wilmington, Ill.) will be used as well.
"We can't wait to get started," said Wallace. "This should be a good year for us."